Looking for a look that makes you feel special? 👰
We help you find it in our catalog
Find out and request a quote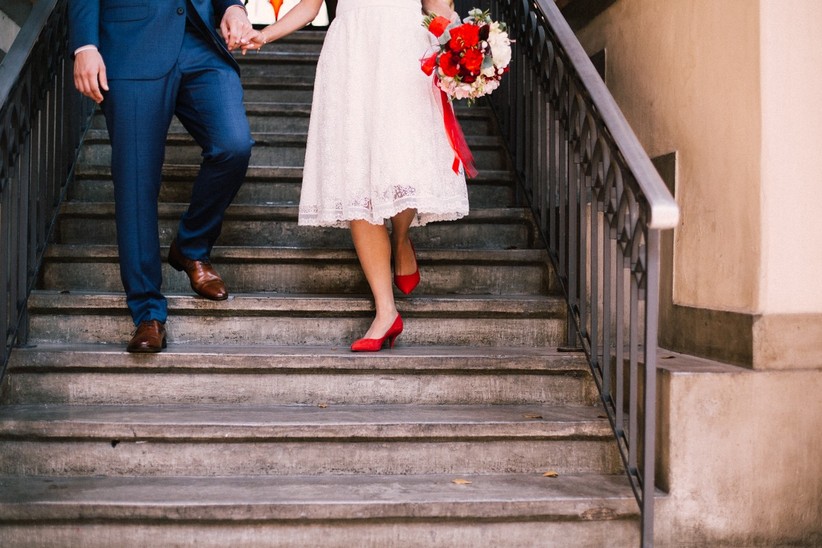 Before you even think about the style of wedding invitations, every woman who is about to fulfill her dream of saying "yes" to the love of her life already wonders how the model of the wedding dress will kick ass in her day. As much as the planning list has many priorities, it is her appearance that requires the most attention, after all she yearns to be wonderful to surprise everyone, especially the person who will be at the altar.
To do this, she uses several researches not only for the decoration of the wedding, but also to kill with the choice of look. Besides carefully studying the cut that favors her, the décolleté that values her silhouette and the ideal fabric, she analyses every small detail that can enhance the whole set, including to bring authenticity to the model. This is the case of brides who prefer to break a little the hegemony of white and add small colored dots to the look, how about it? See where you can play a touch of color and transport the energy of tone to your image.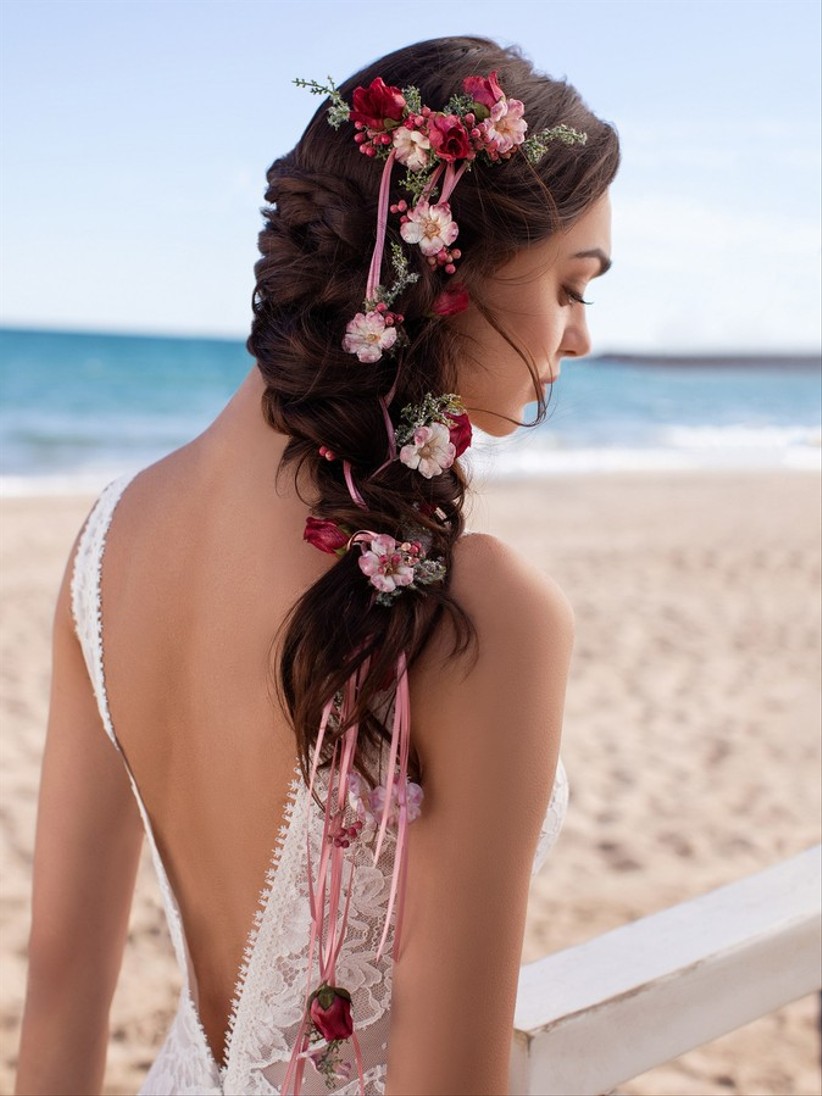 1. Flowers in the hair
If the idea is an outdoor ceremony, a crown with natural flowers for loose hair or other floral accessories in a stuck hairstyle, like a braid or a beautiful coke, are perfect for the proposal, and also to highlight your favorite color or perhaps even to accompany the palette of red wedding decoration, as you always imagined.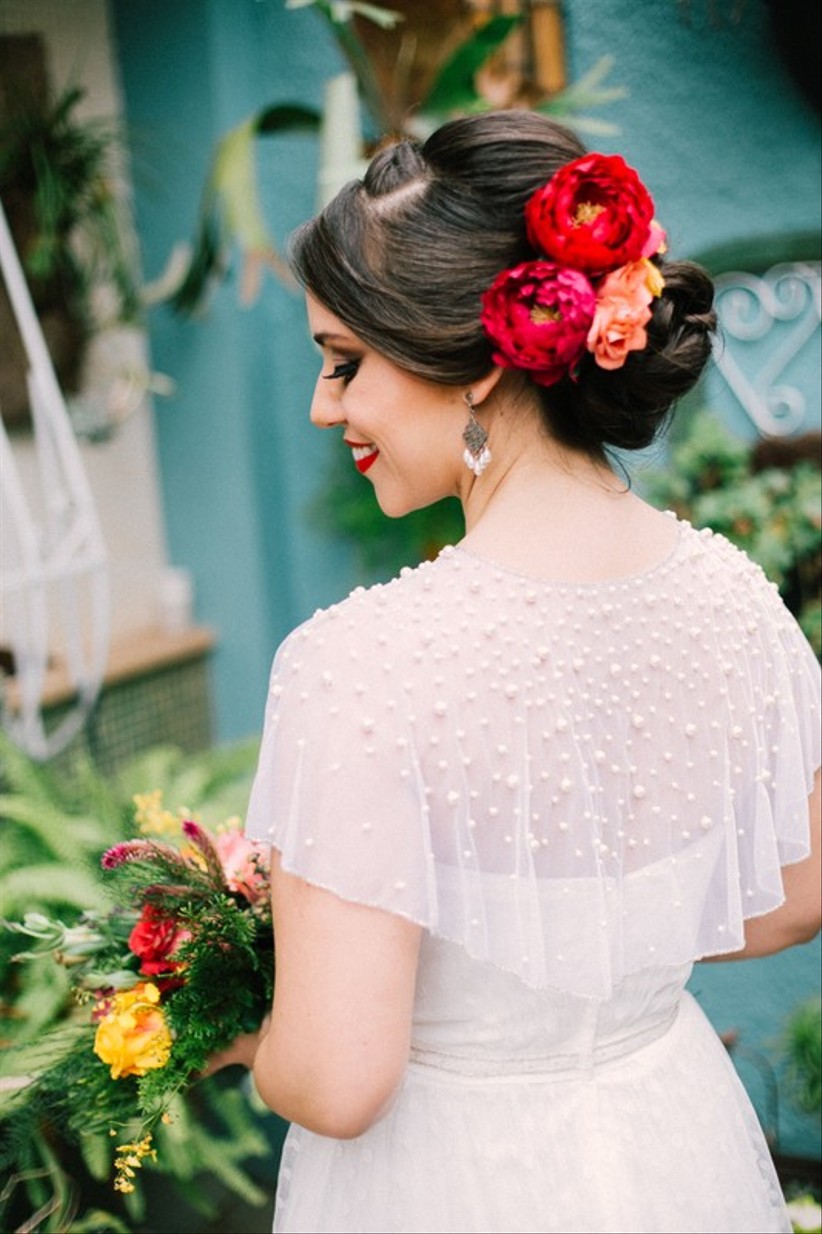 2. Colourful jewellery
Borrowing something brings luck, according to ancient traditions, so that ruby pendant from your grandmother or your mother's emerald earrings can bring luck, plus a touch of diva to your look. But you can also always adhere to local craftsmanship and choose strong jewellery that shows off your personality.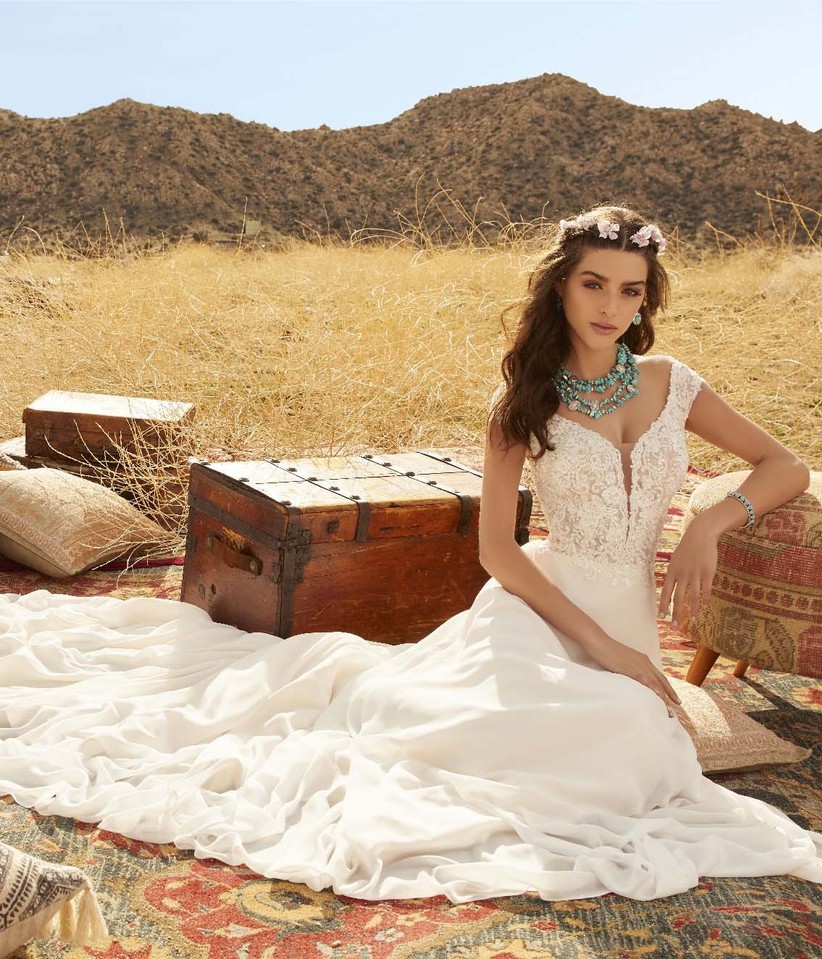 3. Applications or details on the dress
Another good alternative to adding a touch of colour to your lace wedding dress is a band at the waist, which may be of a single shade or with coloured floral prints…an item that not only makes the silhouette cheerful but also accentuates it. It can be accompanied by a bow, an element that breaks the monotony and is ideal to accompany this touch of color in the costume, being able to choose any tone, fabric and width.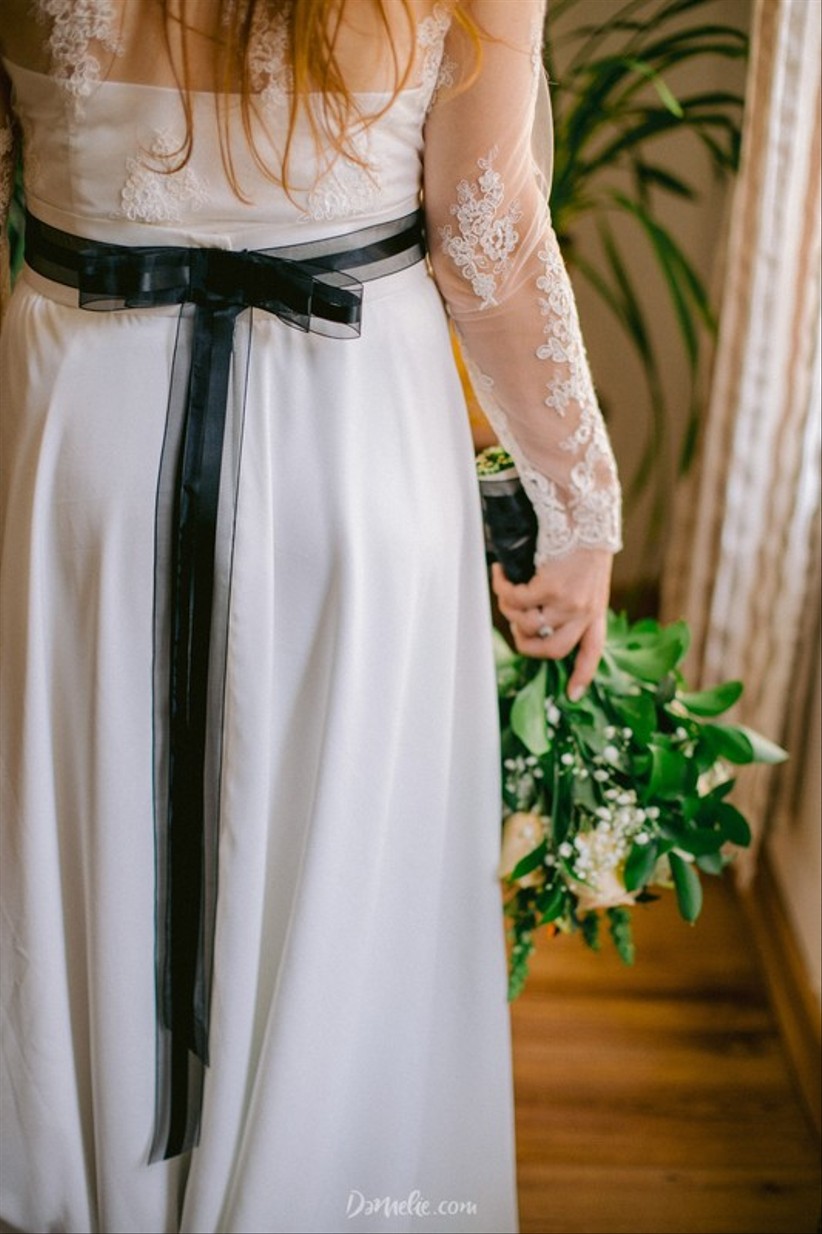 4. Coloured shadows
The biggest experts in makeup say that the trends for this and next year highlight colored shadows, including metallic or neon for summer and also for winter. Look for that nuance that best matches your skin's natural tone and enhance your look.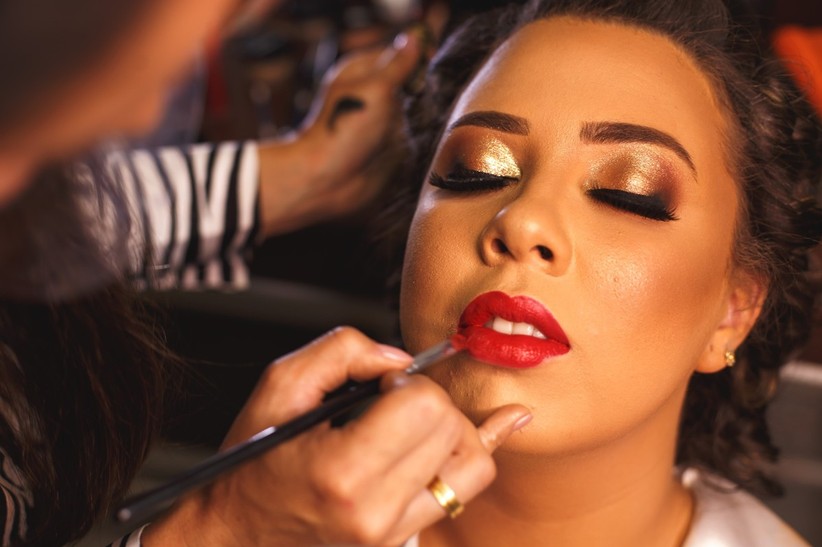 5. Nails
If the clear enamels are not your beach, paint your nails with that favorite color, red, wine, blue or even yellow, but that stand out in a totally white look. Although colorful, nails can also gain a shiny stone or a special print for the occasion.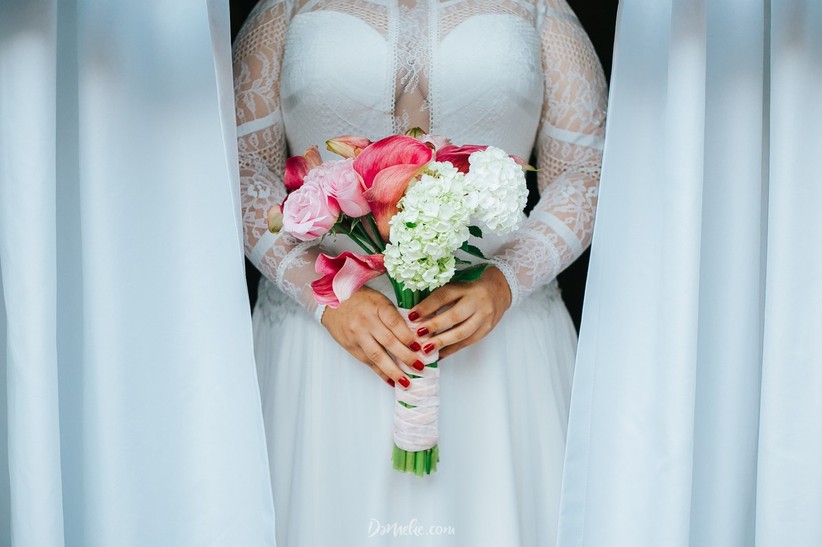 6. Coloured clip
A blue piece for luck, another ancient superstition that many women make a point of maintaining. A charming way to introduce that touch of colour is to choose a clip or blue comb to use in your hairstyle, be it a coke or a semi-press model. The hair will be full of originality and good energy.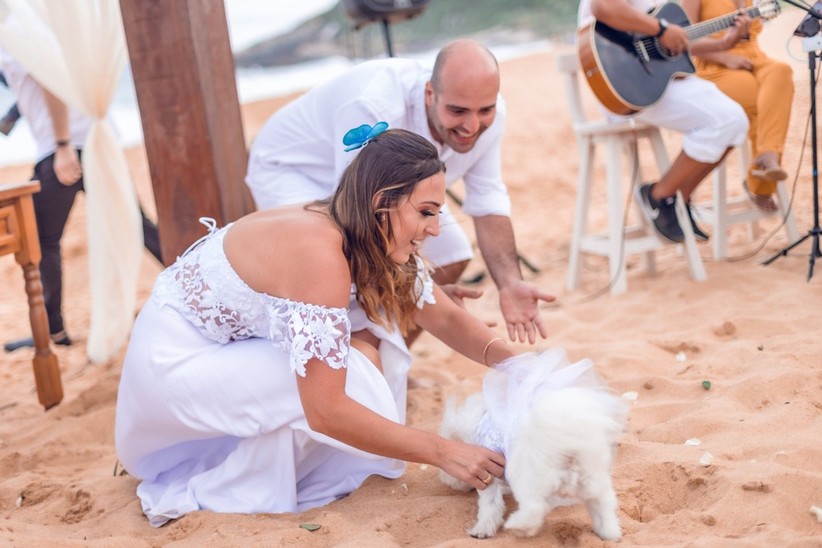 7. Shoes
Some women decide on colored wedding shoes for to be able to take advantage of them on other occasions after day COthers follow this proposal to demonstrate their personality. So, if you were in doubt, play with the proposal and get out of the conventional.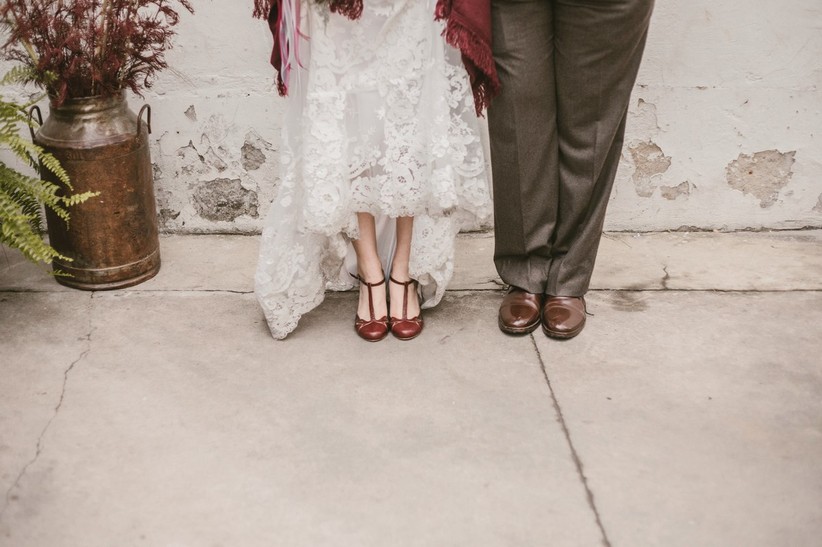 8. Blue mesh
If you are bold enough or if you never had the courage, now you can realize your dream and make a colorful wick to climb the altar. A trend that has come from Europe and has been successful here are not at all obvious hair tones like blue, green, purple, pink etc. You can put the color that expresses your essencebe it blue (considered an amulet for the brides, as we have said) or any other, and be surprised with the result.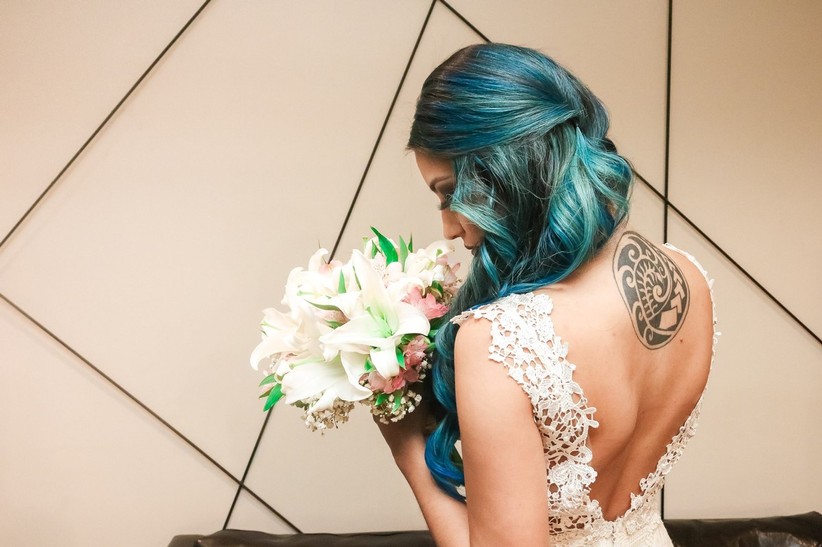 9. Embroidery
Did you choose a dress with lace details? And why not put them in colors that bring even more life and highlight to the look? The delicacy of the embroidery gives a more romantic touch to wedding dresses and can also be made with intense colors. They are more and more elaborate and we can see how much they value each cutout, be it on the bodice, bar or on the sleeveswe notice real works of art made with lines and stones. And your embroidery may have a nuance of color and break with the supremacy of white.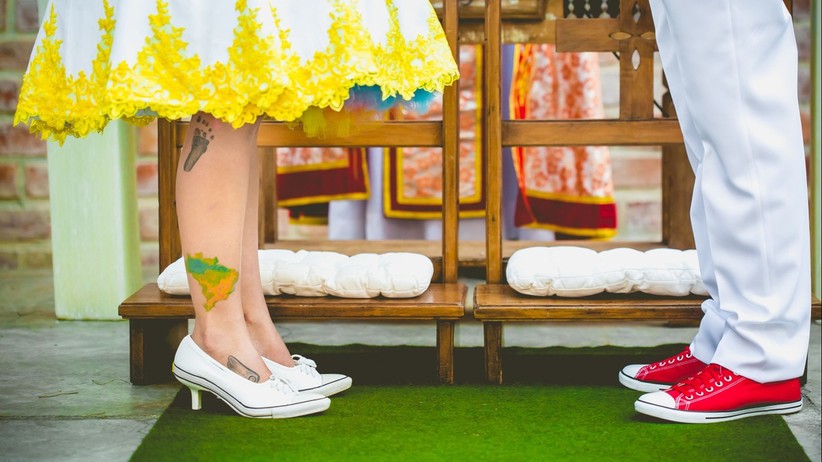 10. Bouquet
Of course, this iconic and traditional element of the bride's look could not be left out, especially when the theme is a touch of colour. The red bridal bouquet is a great classic, but you can also opt for colorful flowers after all if there is one detail that allows you to play with colors on C day it is your wonderful branch. Whichever shade you choose, it will certainly be special to accompany you to the altar.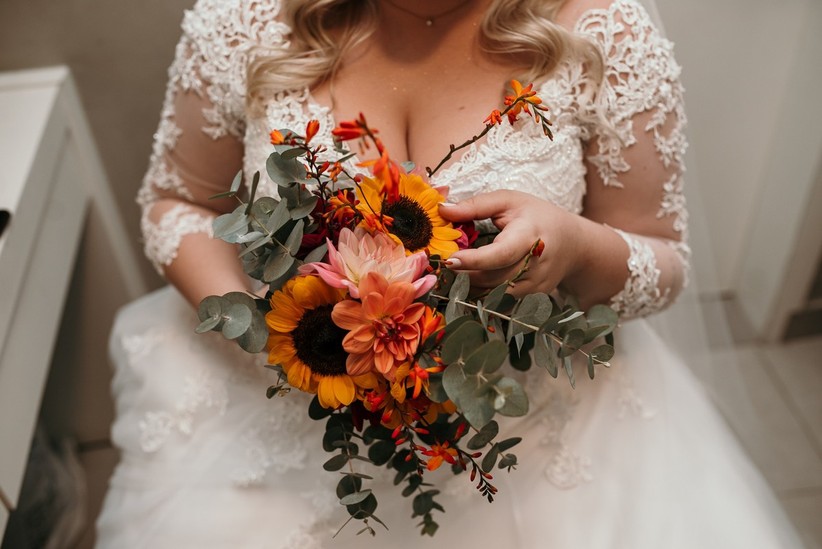 "Give color to your life!" You've probably heard that expression and it only has one meaning: that of joy. To give color is to add something that vibrates, that makes people smile and that puts aside the "ashes" days. The tradition of the white wedding dress is one of the most appreciated, but that doesn't mean that in your wedding look you can't have a touch of colour. And it can be on several items of your set.
Looking for a look that makes you feel special? 👰
We help you find it in our catalog
Find out and request a quote
18 comments on "Bride's look with colorful touches: 10 suggestions for your day