Looking for a look that makes you feel special? 👰
We help you find it in our catalog
Find out and request a quote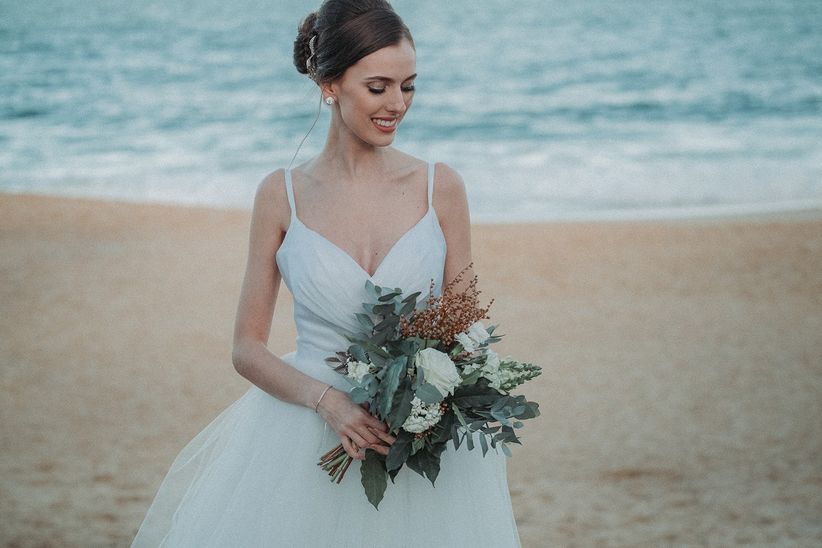 Although there are infinite types of wedding dress, there is only one style for you. This is because everything in this great day should convey the essence of the bride and groom. This is not the time to run away from what it translates, it is the time to leave the couple's style registered, either in the colors chosen for the wedding decoration, or in the souvenir they will offer to their guests with the wedding souvenirs and, of course, especially in their wedding look.
Coco Chanel, one of the designers who most translated the concept of elegance in her creations, is also the author of the famous phrase: "Dress vulgarly and you'll notice the dress, dress elegant and you'll notice the woman". Although these concepts are relative, the truth is that there are elements that a bride can apply to her C-day look that will make her more sophisticated. And if you identify with a more classic style and want to have it in your day, we've separated some precious tips to not run away from this proposal.
1. You will use natural and defined make-up
A stylish bride should bet on natural contours in her makeup. Yes, it is important to use beauty products, or wedding hairstyles that best enhance your strengths. But, to maintain class and style, it is It is important to keep it natural, even if it defines its traits. In this style, it is best to opt for neutral tones, such as nude or brown, and a small outline for the mouth and eyes, without weighing the eyeliner or shadows too dark. Ask the professional who will perform the makeup not to forget that you seek a classic and timeless look.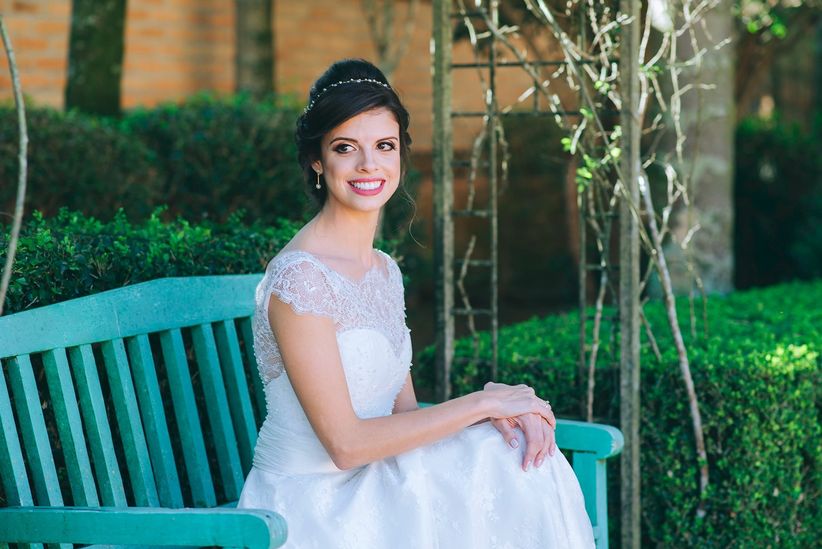 2. You will prefer clear enamels
Who wants to create the look of a bride in this style should give up, at this time, dark and strong colors for their nails. The shades that best meet the proposal are the lighter colors, such as white, pink, beige or transparent, giving just a little glint. For the best effect leave your hands impeccable for the big day, try to hydrate them regularly and have them cleaned of cuticles and sides, using fortifiers when necessary. A beautiful option for the C day are the French fingernails, with skin color enamel and the white tip.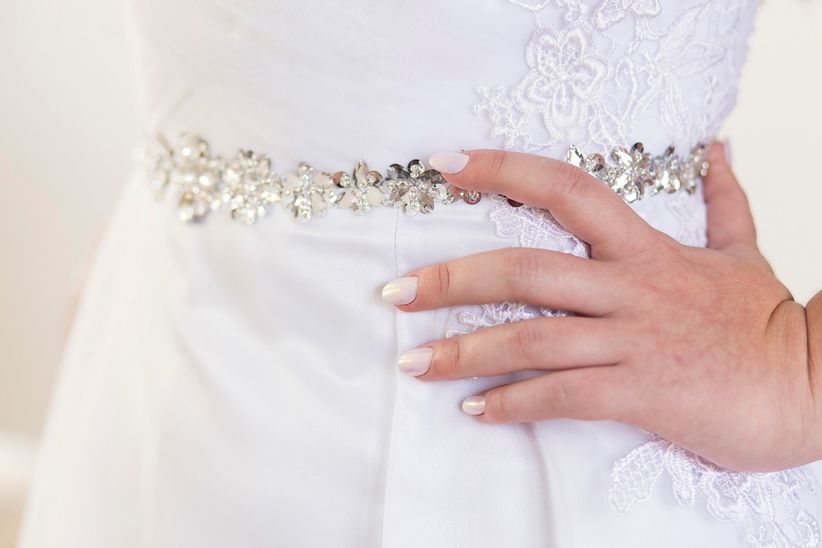 3. You will give preference to classic shoes
Shoes can be a great challenge for women who are choosing the look to say "yes, I do". Even if it seems like a detail, they can change the whole proposal of a style. Brides have many options for their feet, but in order for the look to be sober and elegant, we propose a white bride's shoe, or in a dark tone, like navy blue. Scarpins or sandals with few details, are the ideal modelsplus some variations, like the T-strap, eternal classics. And before you approve a shoe, take the opportunity to test it with your wedding dress model, to know if it allows a fluid walk and if it is adapted to the type of tail and skirt you will wear.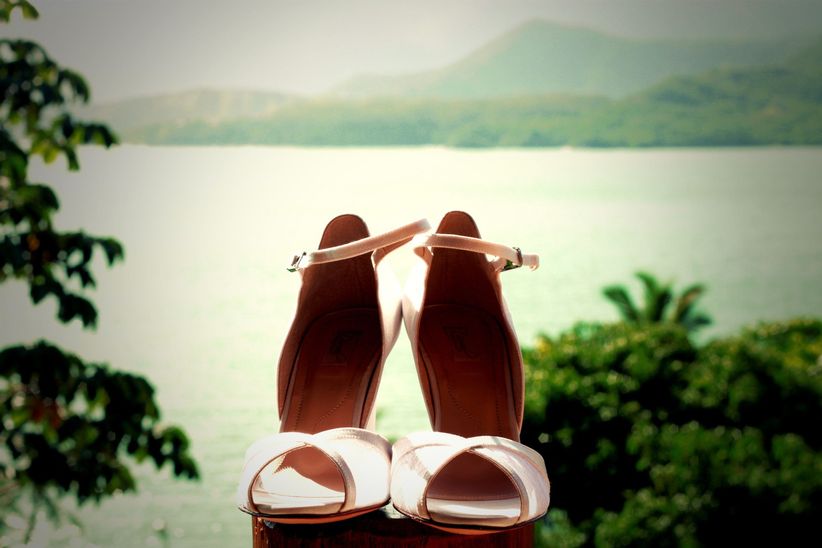 4. The noble fabrics will be your allies
And if you already know which model is the best fit for your body, it's time to move on to choosing the fabrics to make the dress in your favor. And to achieve this look with more refinement and elegance, bet on the noble fabrics, such as silk, satin or linen lace and tulle for accessories such as veils and skirts with more volume. They help you achieve the perfect, natural fit that is paramount to this style. And it is important that the dress has an impeccable fit, with fluidity, without being too wide or too tight.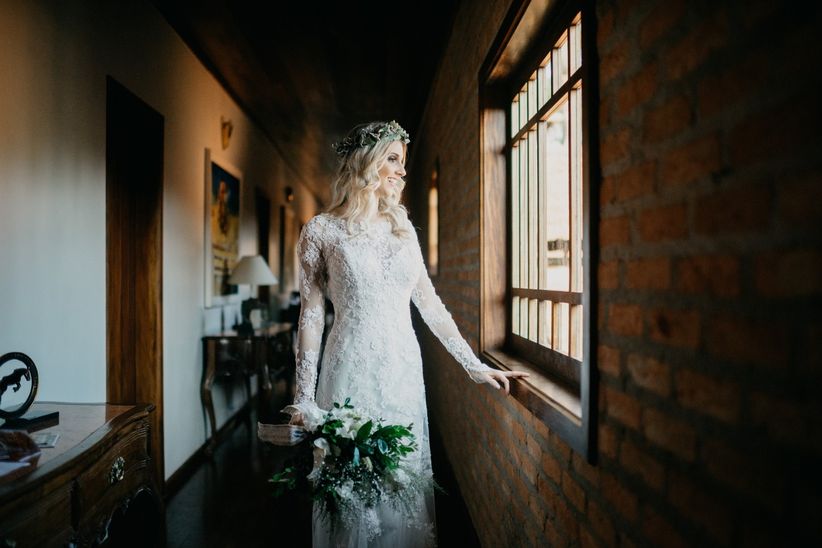 5. Your dress will be discreet
An elegant bride prefers simple wedding dresses, regardless of the cut, which can be mermaid, princess or straight, and still leave their impact because it looks impeccable. Skirts with less volume, straight or A-cuts, with an evasive silhouette, give the ideal effect for a look clean. Bet on a dress with few details and finalizations, prefer only one prominent detaillike a lace on the sleeves, stonework on the belts, or a metallic accessory for the stuck wedding hairdo.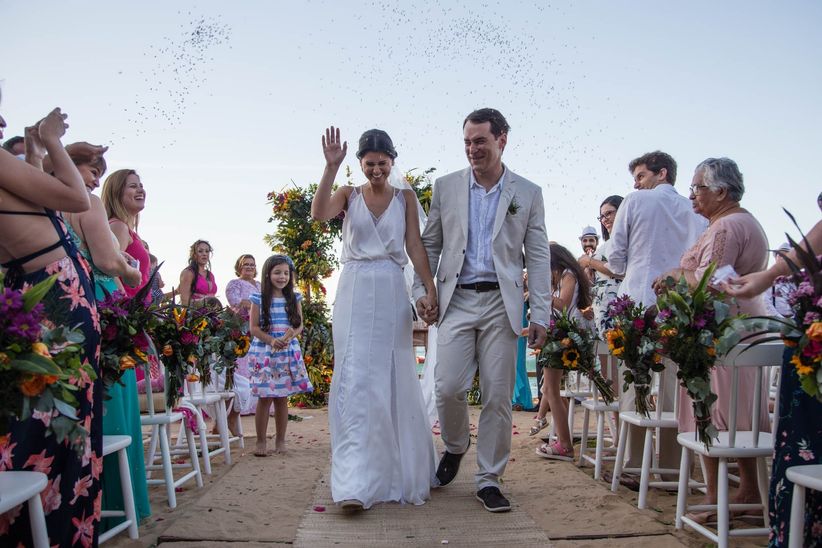 A bride should, above all, follow the style that makes her feel comfortable. With these tips her most classic and sophisticated side will stand out, but the real elegance comes from within, in the joy that the bride overflows, in her smile and her gestures. Following these tips will certainly achieve an incredible look, but remember that the most important thing is that everything in your wedding look reflects your personality. You sent out your wedding invitations following a visual identity, so try to keep everything in sync. Make choices for the look that will let you enjoy until the last wedding song with elegance, but without sacrificing your well-being and everyday style.
Looking for a look that makes you feel special? 👰
We help you find it in our catalog
Find out and request a quote