Looking for a look that makes you feel special? 👰
We help you find it in our catalog
Find out and request a quote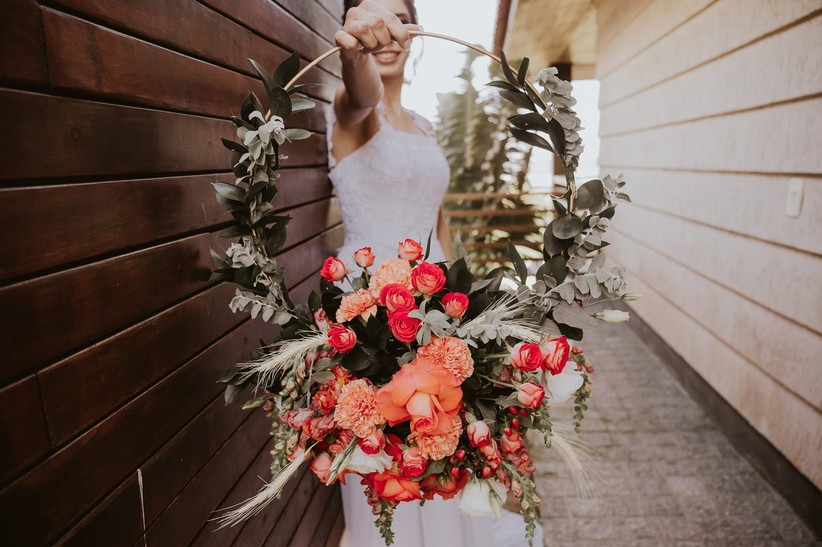 Saying "yes" is a centuries-old tradition, and in every society it comes with customs and practices, usually passed down from generation to generation. But that does not mean that everything related to a link has to be, necessarily, traditional. That goes for the kind of couple and family that will be formed, for the rituals that they want to be part of the ceremony and also for the details, such as novelties that are launched for the wedding decoration or aspects of their look.
And within this last item there are a multitude of elements that have appeared in both women's and men's wedding sets. Wedding dresses, which monopolize the looks, each season gain new cuts, more daring applications, asymmetric silhouettes, and the protagonists of the day can also innovate in their complements, such as the bouquet. Have you thought about using another format? Let's introduce you to Hoop Bouquethow about a little inspiration?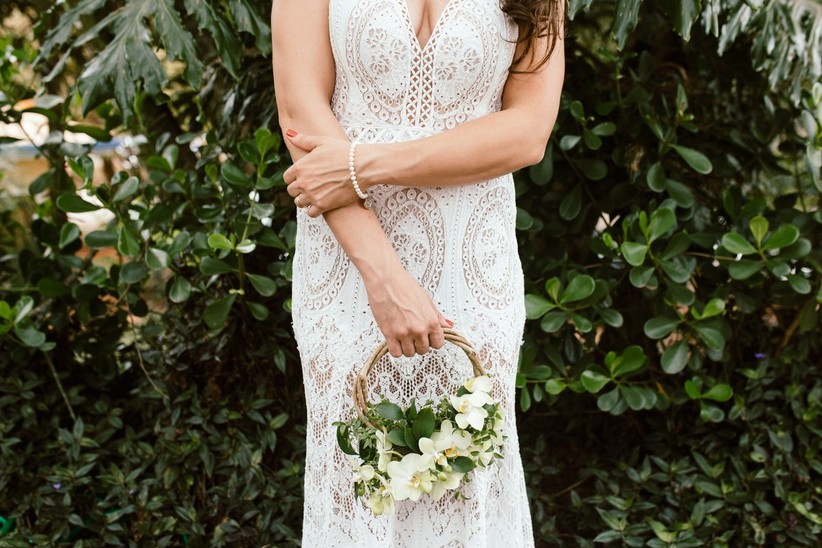 An unusual format
That branch runs away from the shapes you usually see. Called hoop bouquet (or bouquet in arch, in Portuguese), it is about circular structure, an arch that can be adorned with flowers, fabrics, foliageJust like the more traditional bouquets, the difference that all the elements will be placed around the structure, which can be metallized or made of wood, as occurs to harmonize with rustic wedding decorations.
Some brides choose flower the whole bow, others prefer that the wooden structure or even branches is apparent, that it has a half moon composed of flowers, something that can have a beautiful effect, with this mixture of elements. Many might say that the hoop it looks like a purse from the way the brides carry it.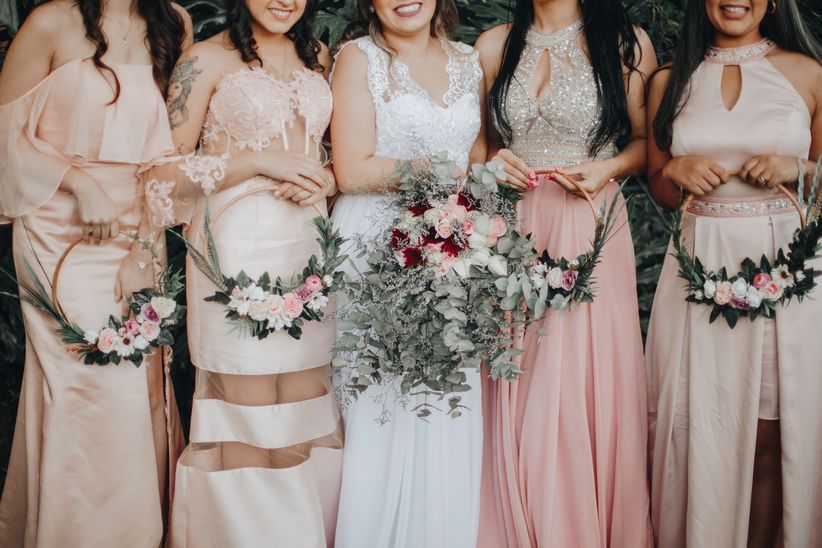 The right choice for every style of party
Even if it has been won over by that kind of bouquet, it is always important to remember that all the elements of your day should be in harmony with each otherYou have to try to combine your wedding style with the wedding party decoration, the colour palette, the atmosphere and the protocols you want to follow.
This style of bouquet goes better with those marriages that they value a relaxed and lighter air, usually outdoors with a bohemian chic décor, which has elements of nature, and also that do not always need to follow the traditions. But if, on the other hand, you have chosen a classic décor, and traditional arrangements, and you do not dispense with the charm of hoop bouquetYou can adapt it to the more sophisticated air of your bond by using flowers that convey this idea, and ornaments that harmonize with the atmosphere of your day.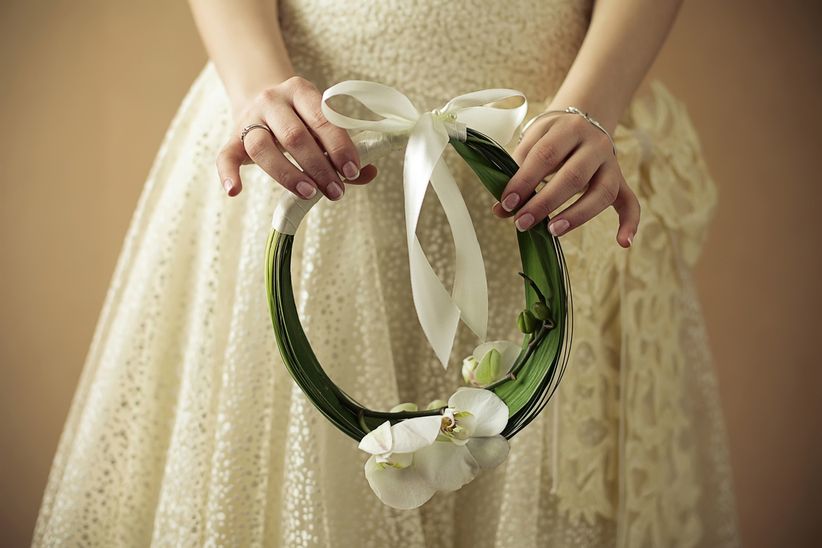 Know how to match your dress
Besides the party style, you can't forget your personal style. As important as combining that bouquet with the atmosphere, is knowing how to harmonize it with your wedding dress model. This kind of bouquet, because of its different and modern shape and that, for sure, will draw a lot of attention, it should be in total agreement with the look., always bearing in mind the balance of the whole:
For princess wedding dresses that have a lot of volume in the skirt, and other details in the corset, the recommended is a circular bouquet without many applications, which is more "sequinho", so that there is no visual noise between the two elements of the look. And the same goes for other cuts and models full of details, such as stonework, tattoo lace effect, 3D applications;
For simple, straight-cut or avasé wedding dresses, more minimalist, with smooth fabrics and few details such as lace, it is possible to leave the highlight to the accessory and in this case the bouquet hoop can be more voluminous, playing with flowers, foliage and twigs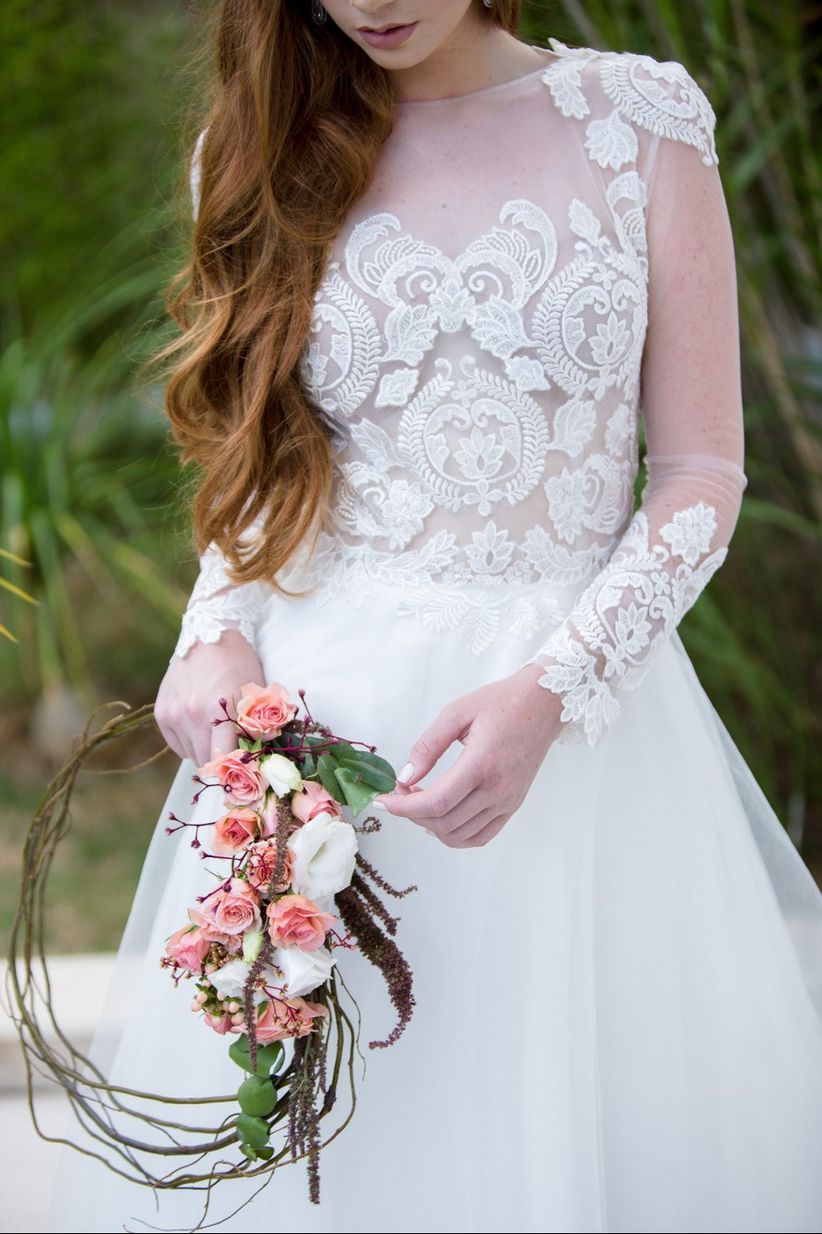 If you've identified with this bouquet and are sure it matches both your dress and the accessories that make up the wedding look and hairdo, make sure you don't "conflict" with the type of event you've chosen, and then make it your bouquet of flowers. Knowing how to choose personalized elements like these is what will leave your original set.
Looking for a look that makes you feel special? 👰
We help you find it in our catalog
Find out and request a quote
4 comments on "Hoop Bouquet: original shape for a traditional bride accessory"