Dresses in earthy tones, especially terracotta dress, is one of the great trends for bridesmaids. Long dresses in terracotta, caramel, brown, other shades of the earthy palette have been increasingly requested by readers who contact me asking for help in finding a specific dress to wear in the godmother mission. Despite being very similar tones to those of the nude party dress palette, the difference is that the earthy tones are warmer, let's say more drawn to orange.
There is no specific rule for this, much of the bride's will, but in my opinion dresses in earthy tones combine a lot with weddings in the summer. If it is outdoors then even better! In other words, if you are a bride who likes to bet on news, be sure to think about this possibility.
Dresses in earthy tones for bridesmaids
01-A dress that I already posted some time ago and that is very successful is this dress worn by Thássia Naves at a beach wedding. The beautiful model is by Martha Medeiros.
02-Maria Rosa Guerra beautiful in a brown dress with long sleeves. The model besides being beautiful is embroidered in sequins, a great trend this season. For sale at Duza, contact 11 99992-8368.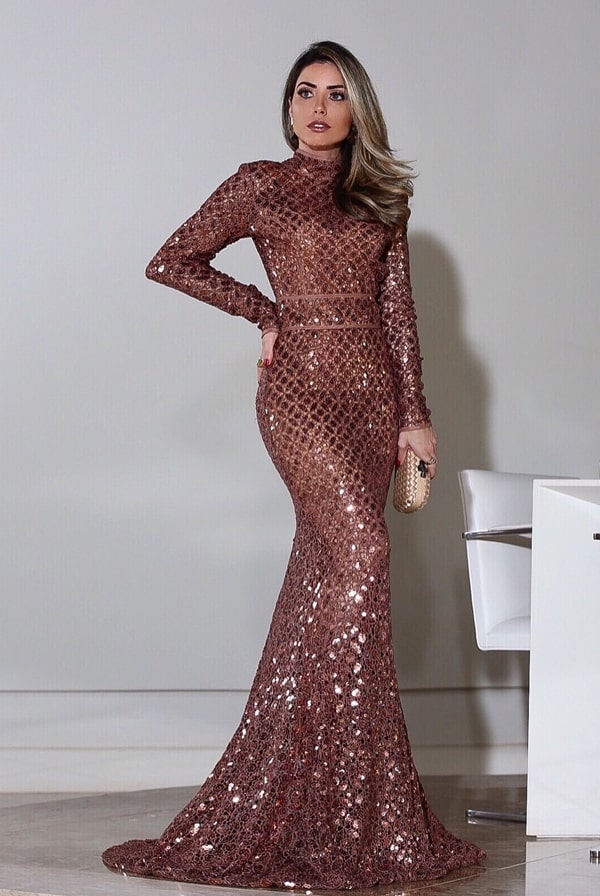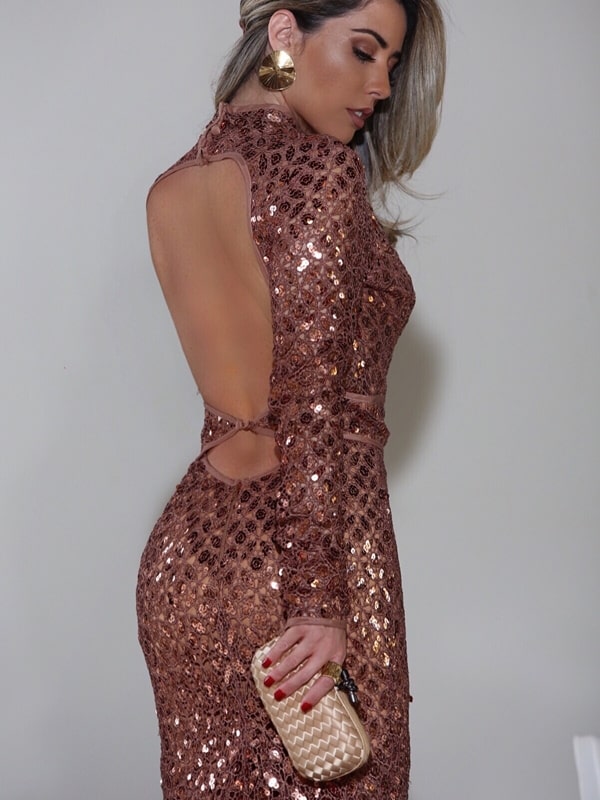 03-Another beautiful dress worn by Maria Rosa Guerra. The caramel tone is beautiful! The dress is from the Zen brand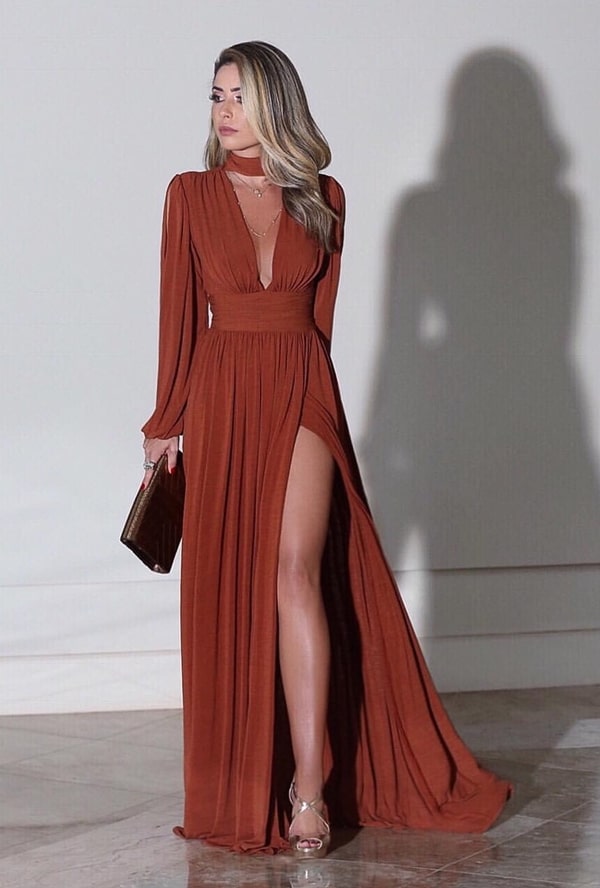 04-This dress from the official Mariah Boutique is between nude and brown. For sale at Mariah Boutique, contact no (contact no 17-98222 7275).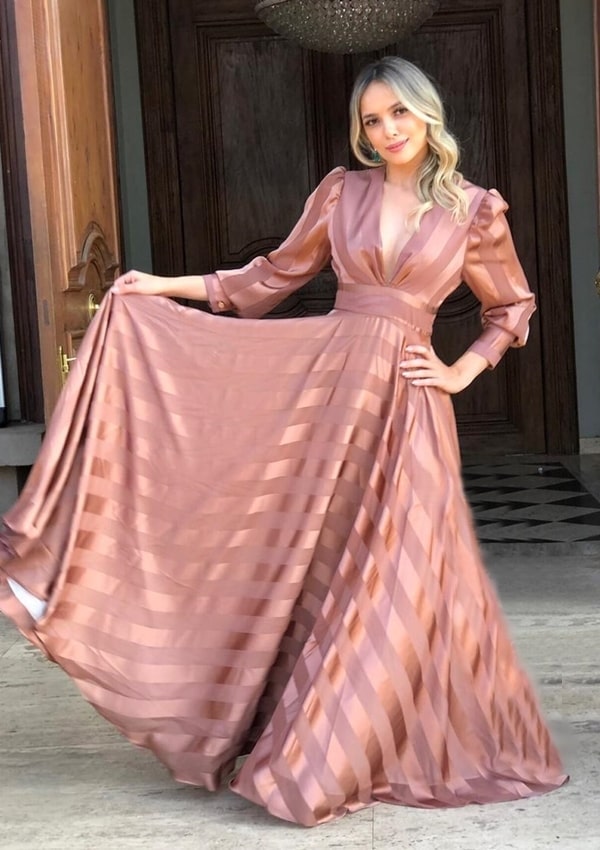 05- Dressed in a lighter shade. It was made by Atelier Zull, contact at (28) 99919-0141.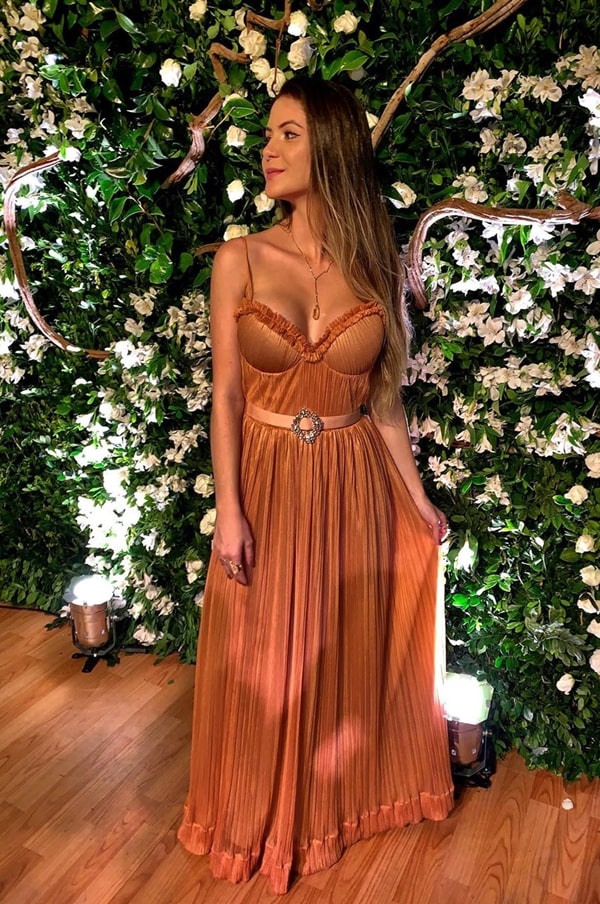 06- Simple and beautiful Carpe dress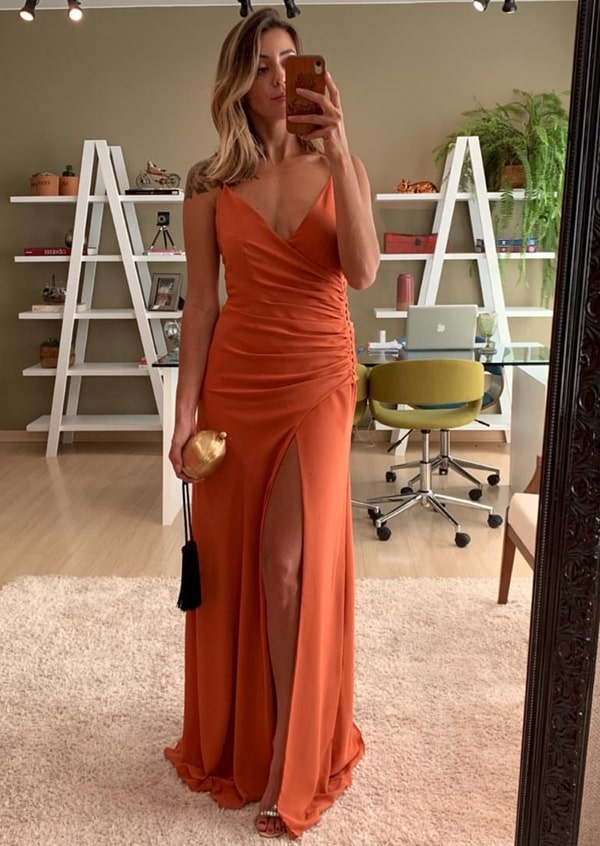 07- Long dress with ruffled skirt. Stilo Chic, contact us at (61) 9975-4185.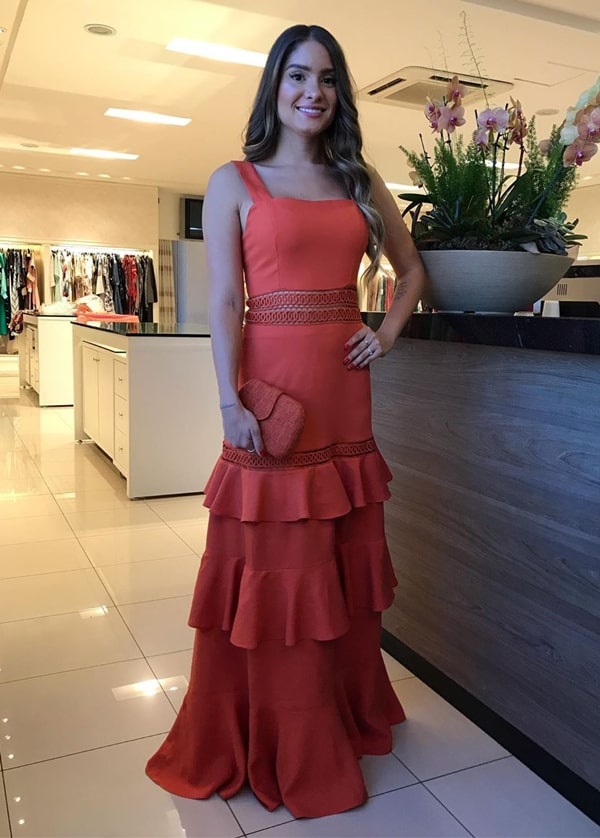 08- Ijeoma Kola beautiful dress with asymmetrical neckline. Unfortunately the dress is imported (it is the inspiration for those who want to have the dress made.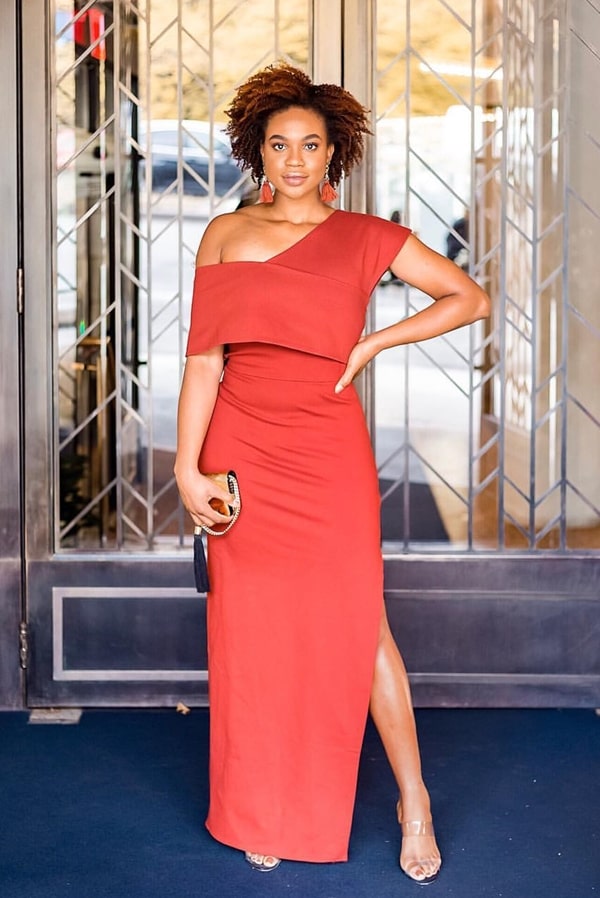 09- Beautiful Danielle in a pleated dress. Unfortunately this dress is also imported (but as a pleated party dress is very popular here in Brazil, I believe there is no difficulty in finding a similar dress from national brands.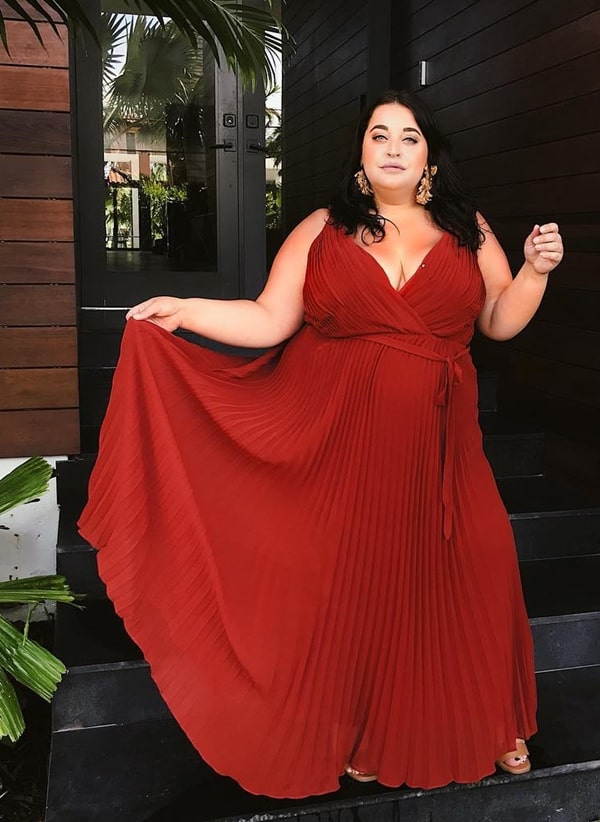 10-Here in a colder brown tone. Dressed in the new Joana Julião collection, they deliver throughout Brazil, contact on Whats App (81) 9.9510-1008.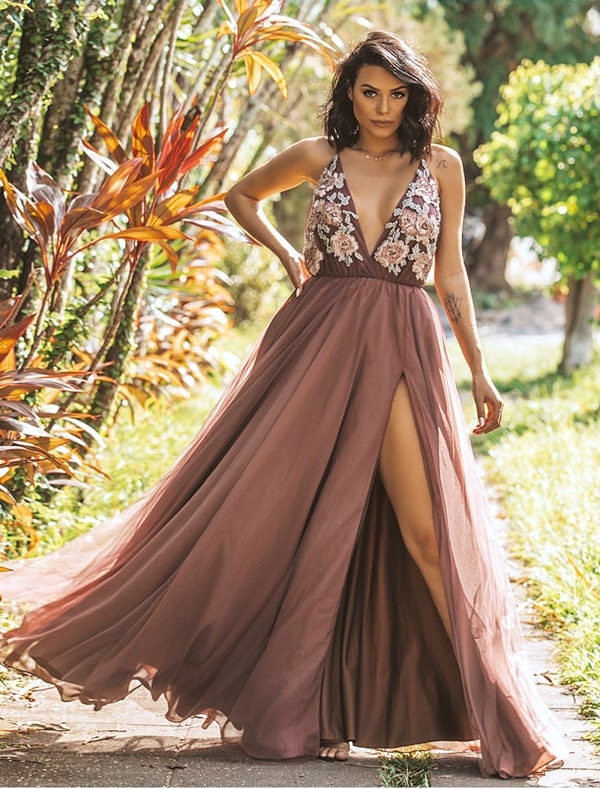 11-Terracotta dress made by M. Daura Atelier, contact no. 31993468274.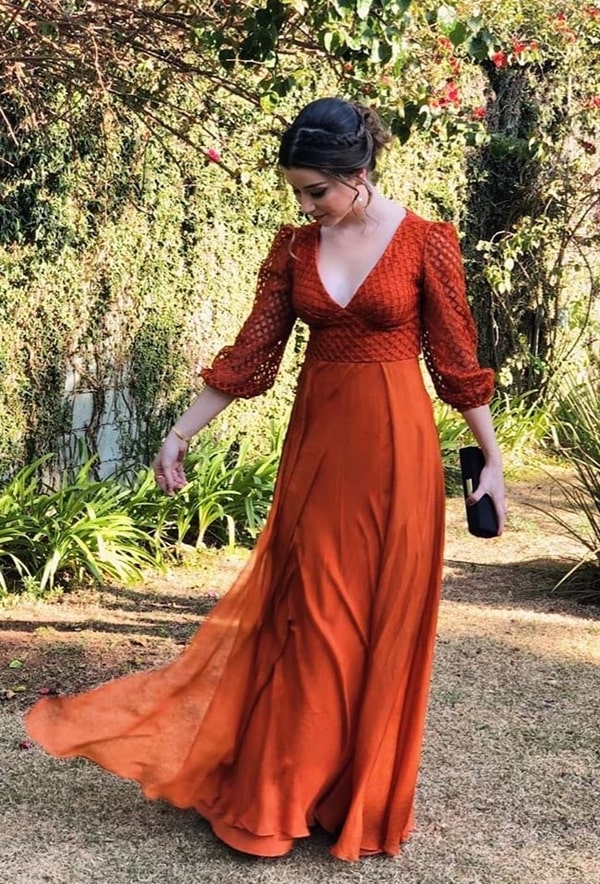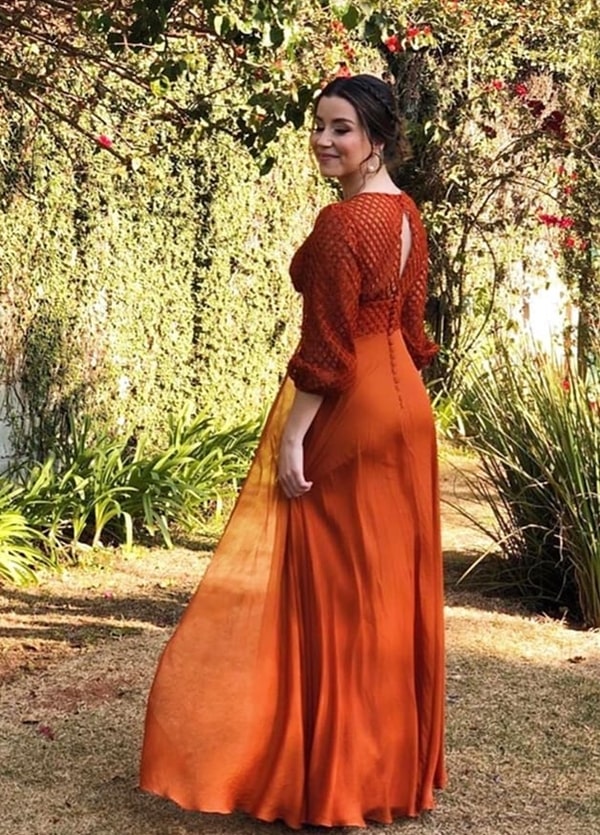 12-I think this dress from My Dress Online is beautiful!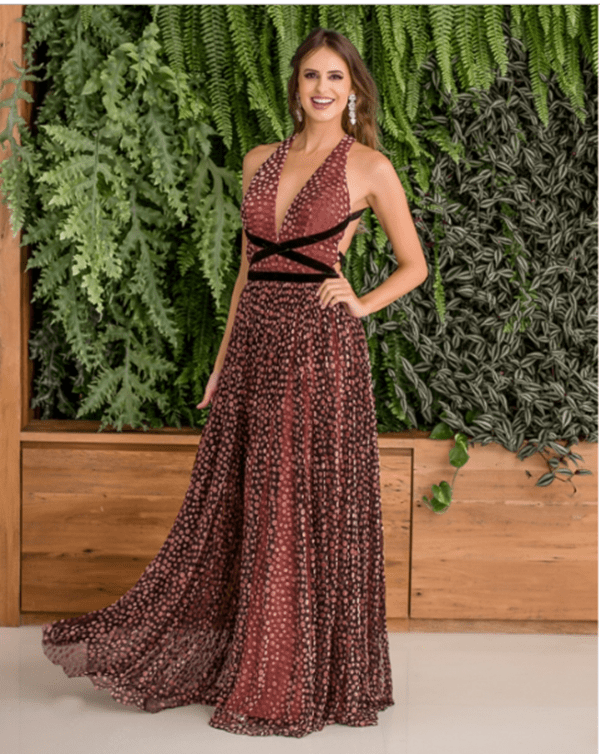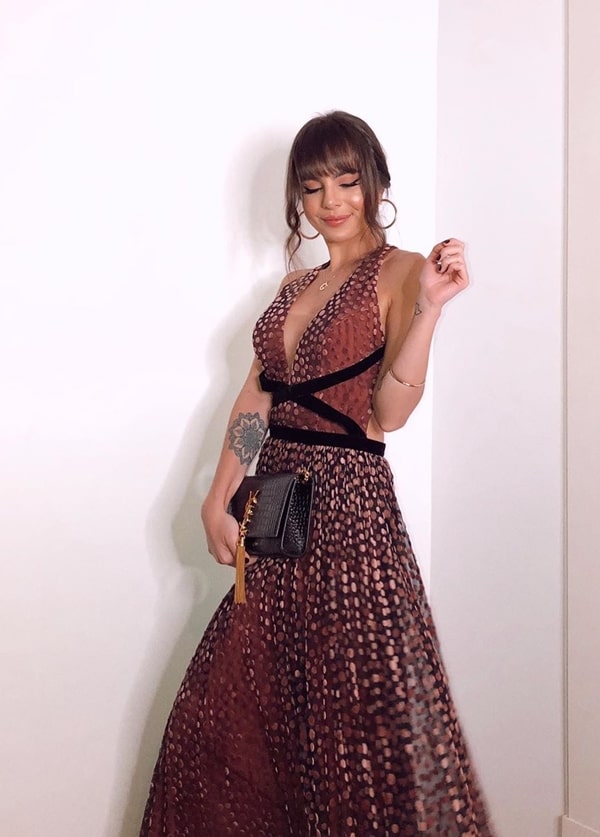 13-Draped terracotta dress, too beautiful! For sale at Joana Julião, they sell online and ship to all of Brazil (contact on Whatsapp (81) 9.9510-1008).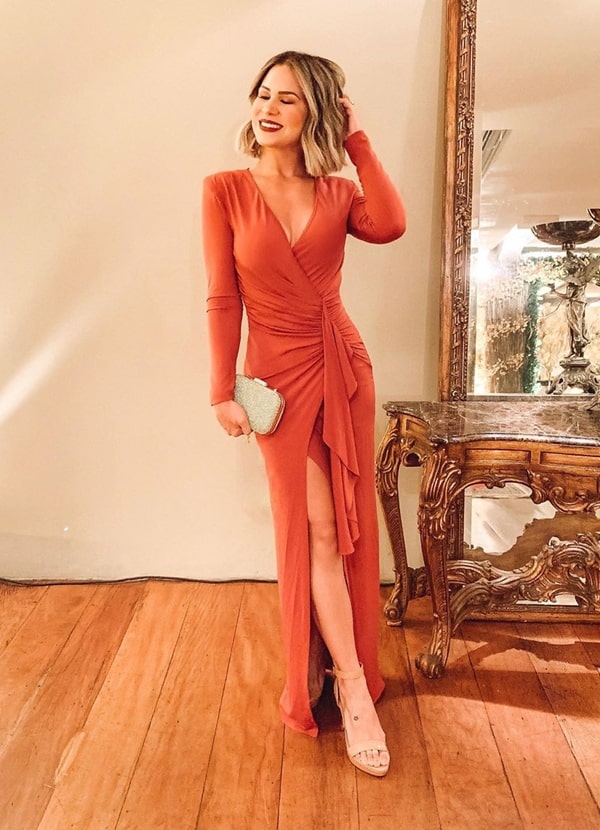 14-Another beautiful option in this half-terracotta tone. It is from Patricia Roque's new collection, contact on Whats App 17-99266-9507.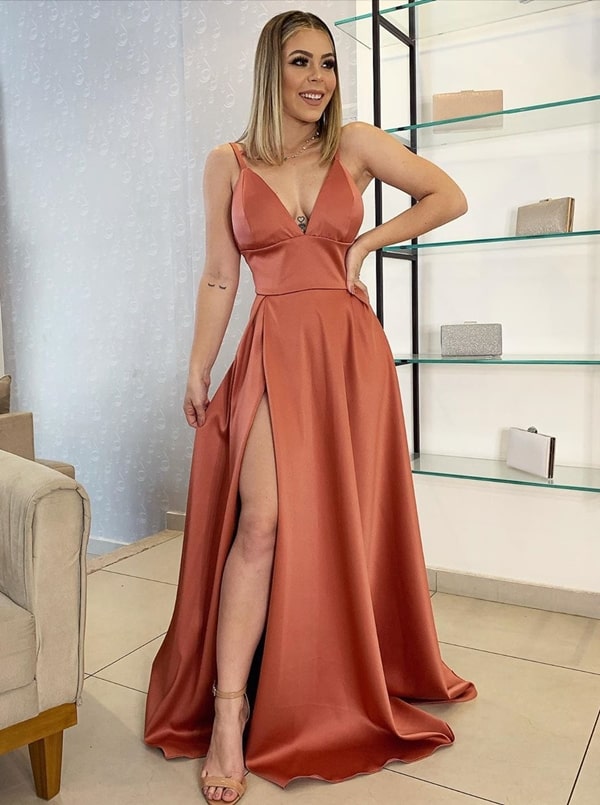 15-Also from Ateliê Patrícia Roque!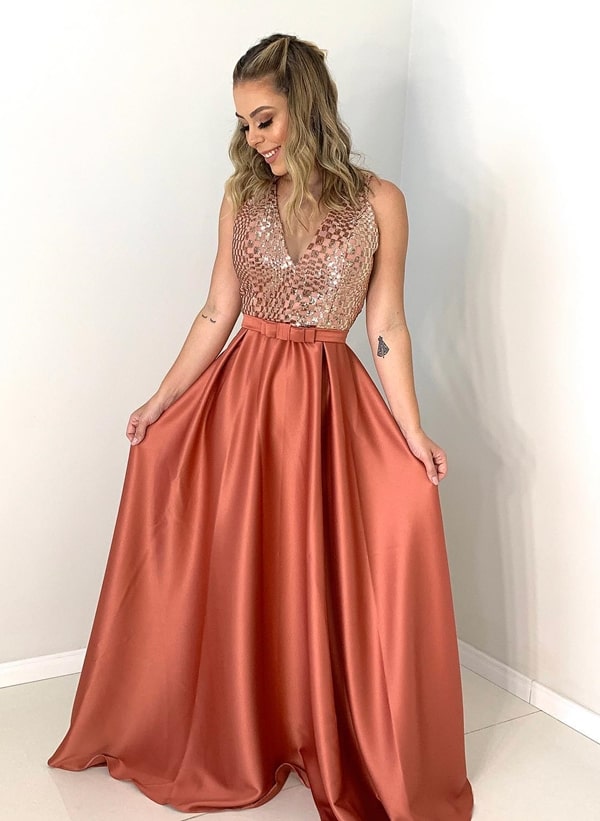 16-Lace dress with wide skirt and slit, stunning! Available for rental at My Dress Online.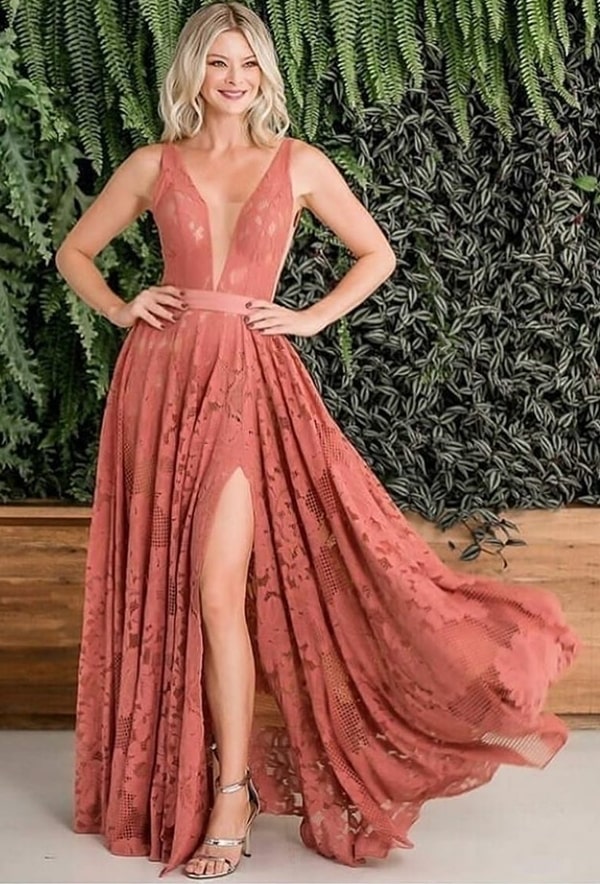 17-Dolps Terracotta Dress. On sale at www.dolps.com.br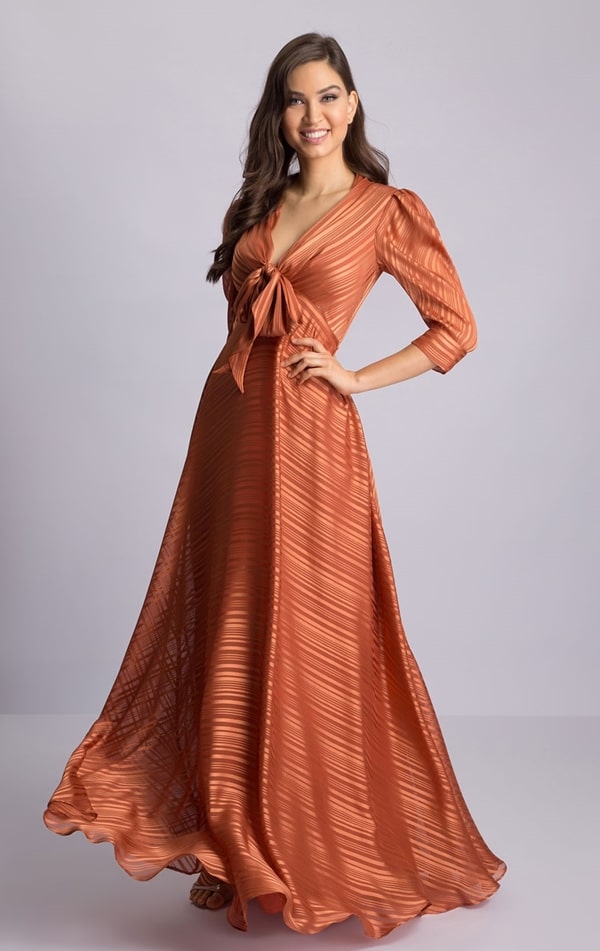 18-Sandra Majada the perfect guest (I talked about her in this post) in a long dress in an earthy tone with a bare back. As she said, perfect for a boho chic wedding.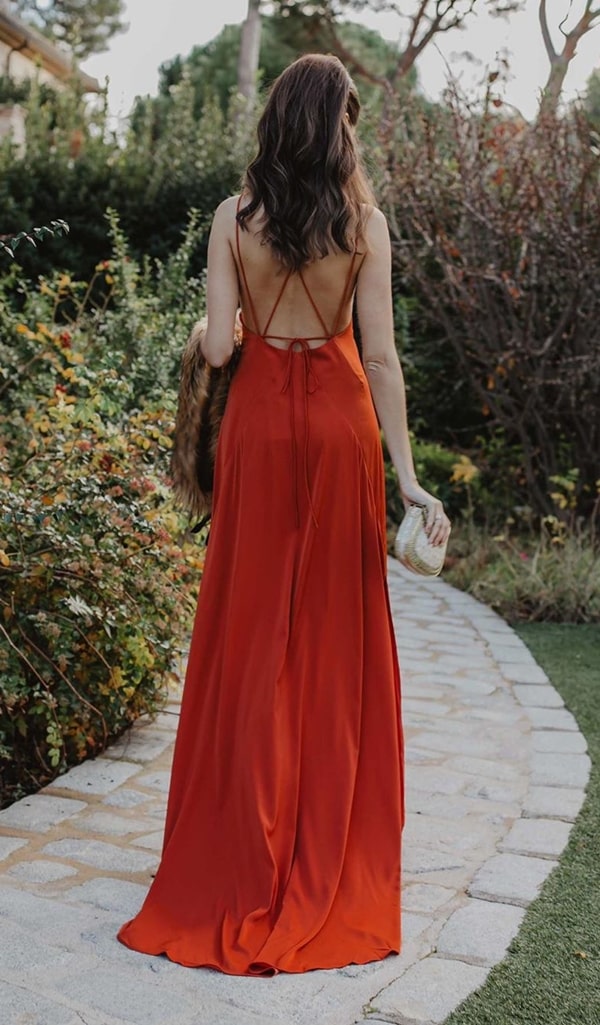 19-Dress with ruffled sleeves, a charm for outdoor weddings. For sale at Tok Fino, contact (82) 3241.3099.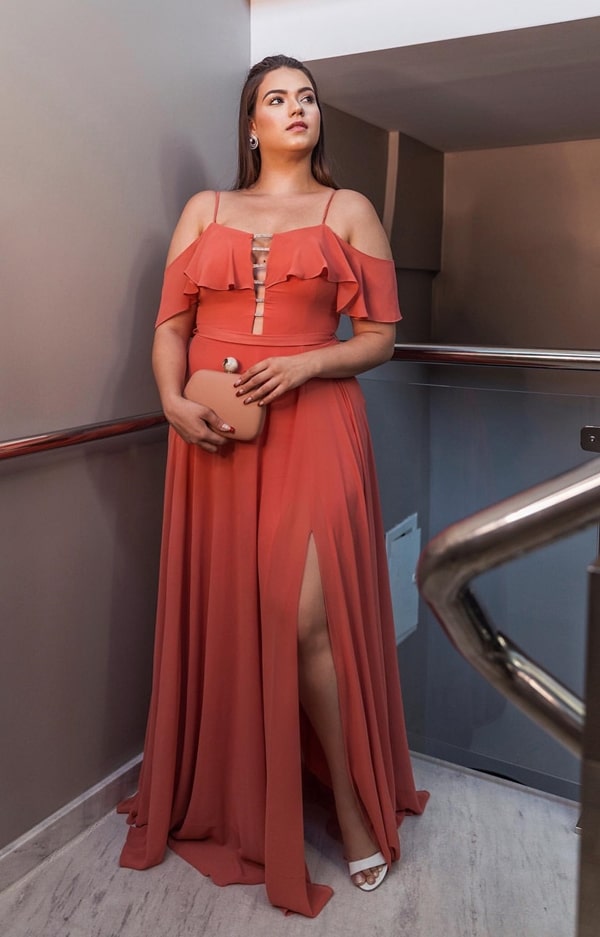 20-Inspiration for those who want to have the party dress made.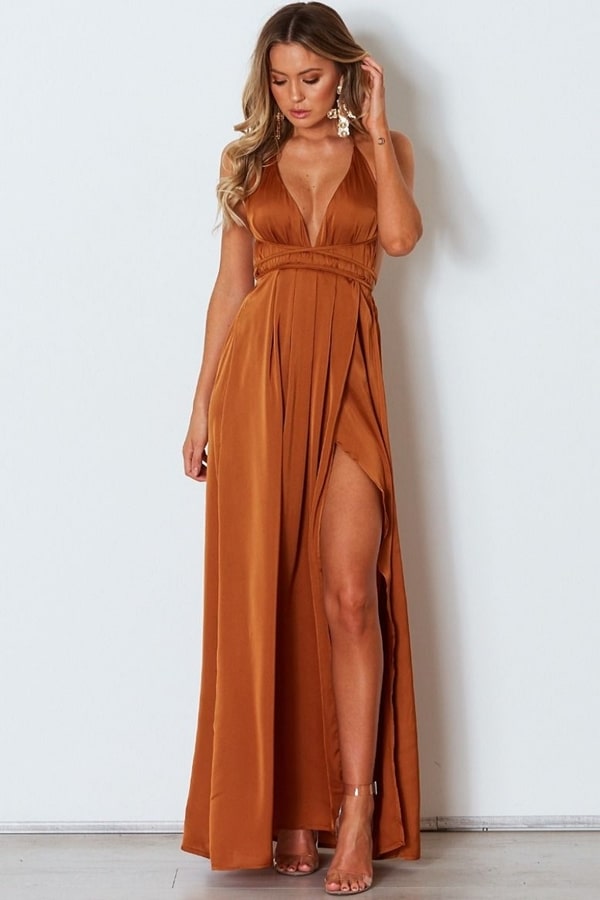 21-Dot beautiful lacy long dress. Clothing (you can buy in multibrands all over the country).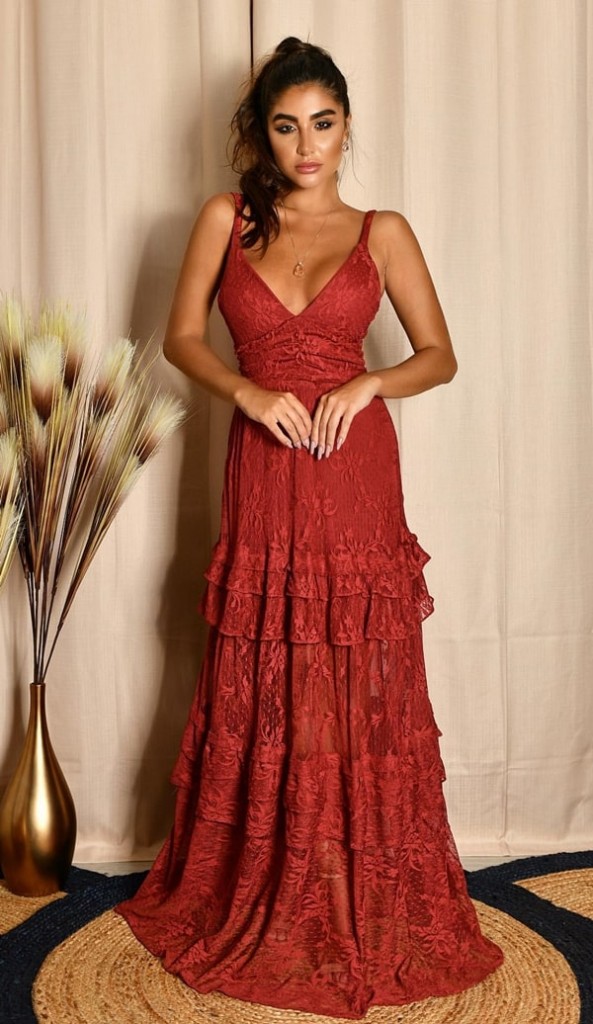 22-Inspiration for those who can't resist a beautiful shine!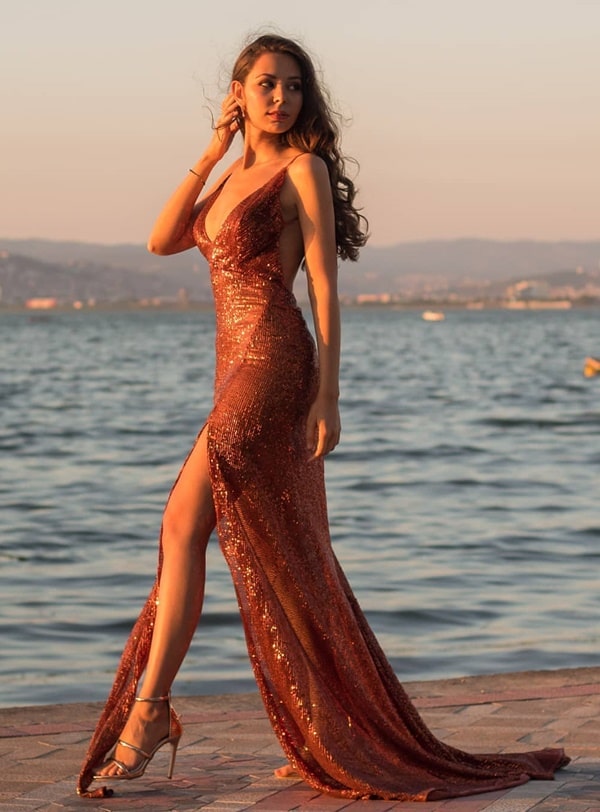 23- Gabi Lugris, beautiful at the godmother mission, wearing a dress from Atelier Três Gurias (contact no 53-981615303).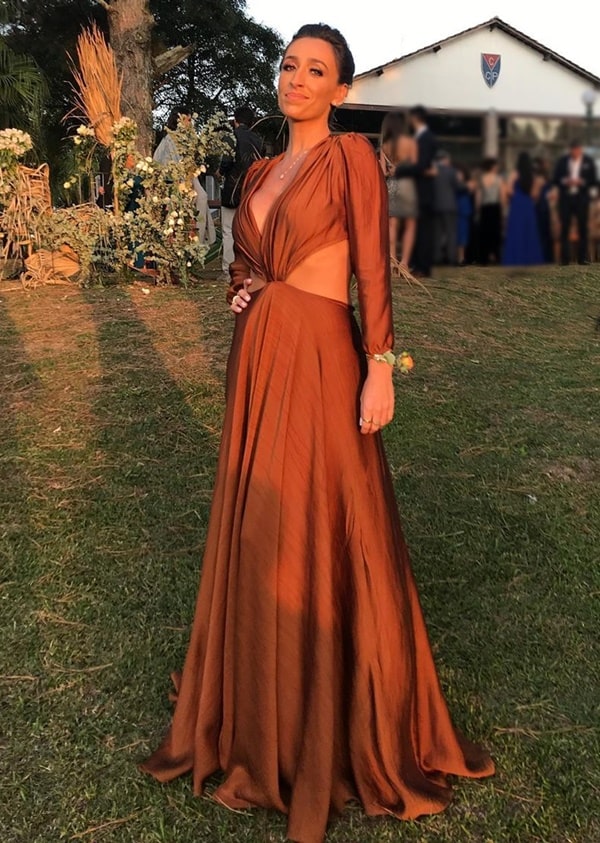 24-Lacy terracotta dress, beautiful! Brilliê dress, contact 41 41 99761-3284.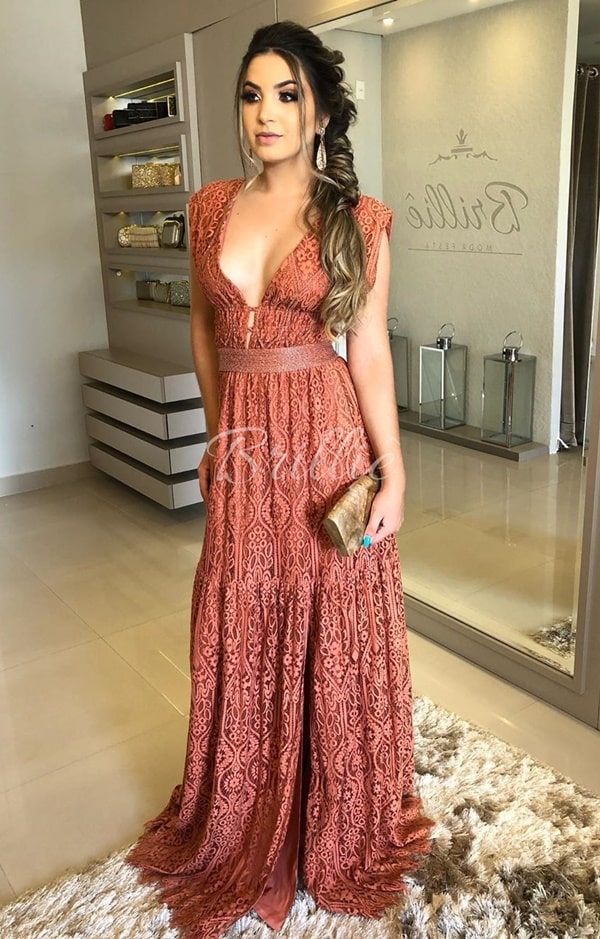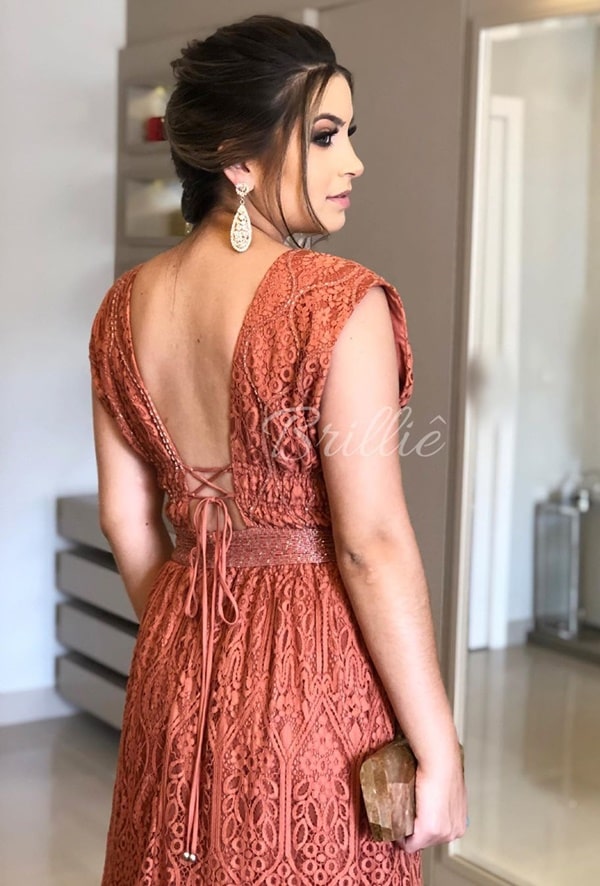 25- Dress with flowing skirt and bodice embroidered in shades of gold. For sale at Atelie Patricia Roque, contact no 17 981922760.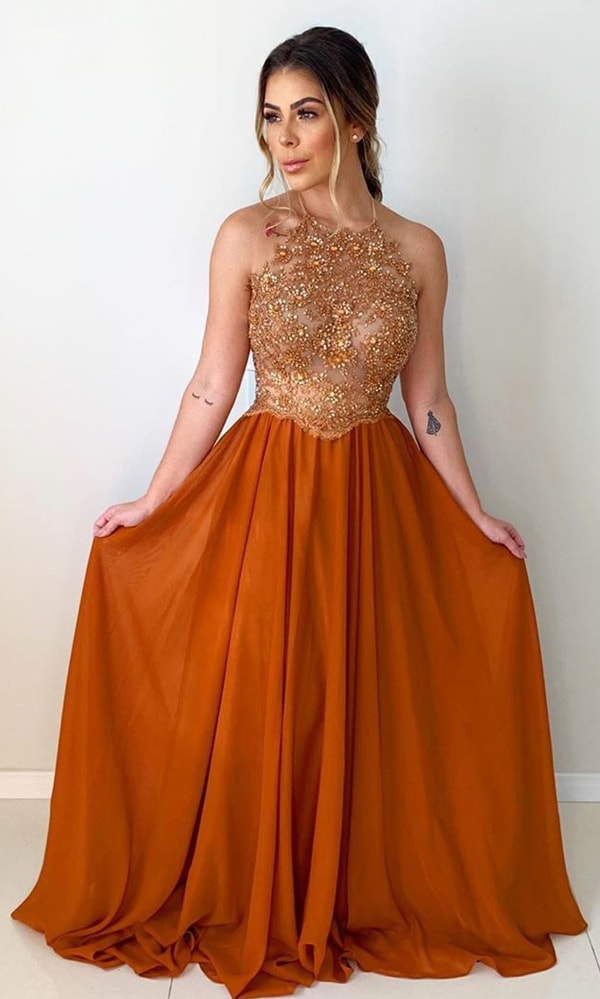 26- Tighter model and with a slight shine. For sale at Cristina Acedo store, contact (11) 9 9690-8488.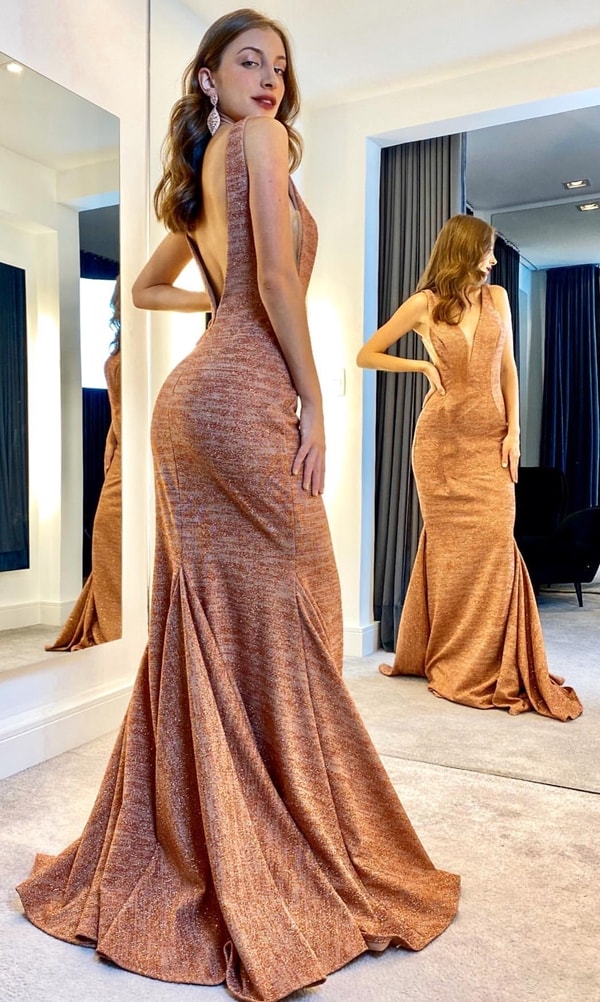 27-Dress in earth tone and with animal print. For sale at Closet da May, contact (62) 99907-8090.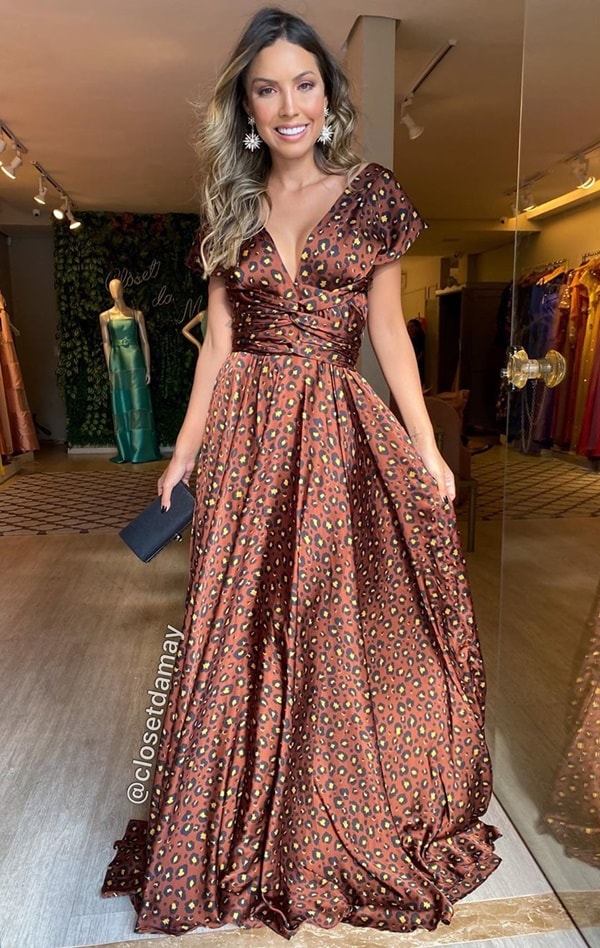 28- Multiform model dress (one that has several ways to tie). For sale at Empório NM (contact (31) 99855-0216).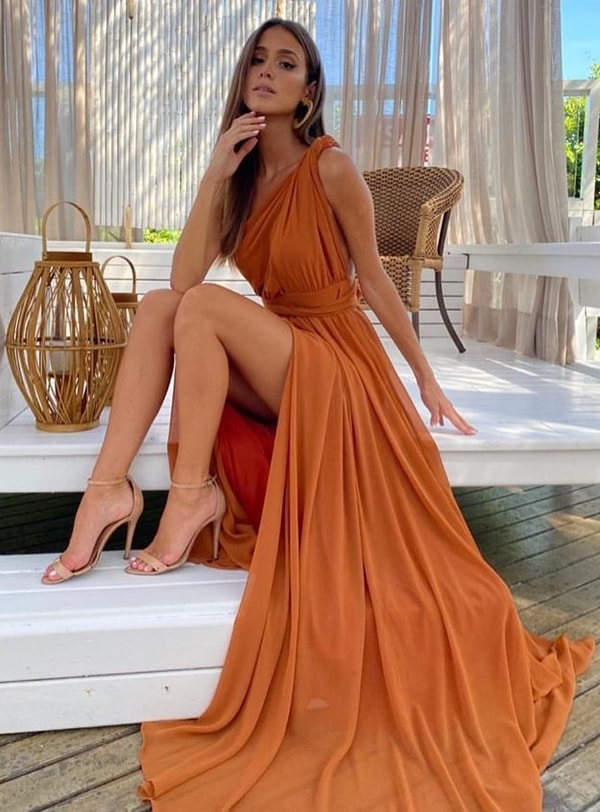 29- Lace dress in an earthy tone with puffed sleeves, a charm! For sale at Empório NM, contact (31) 99855-0216.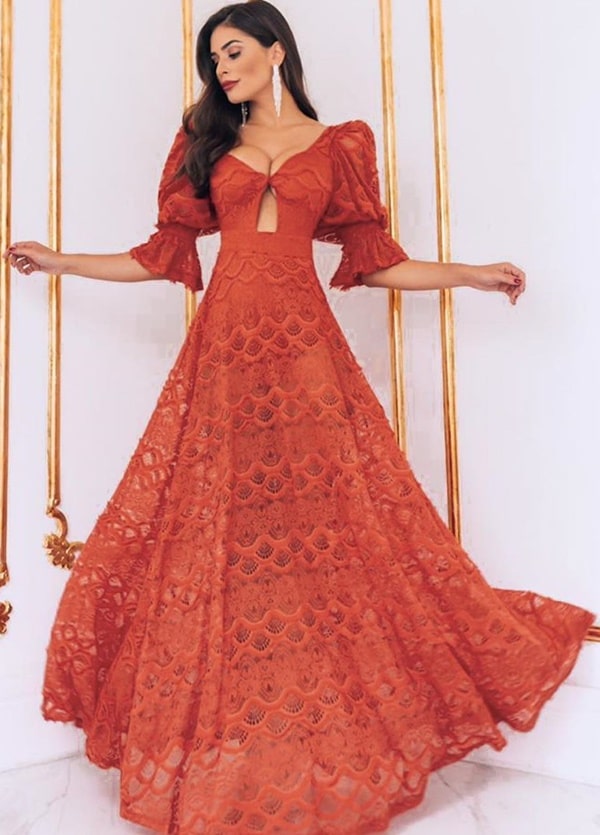 30- Terracotta multiform dress, beautiful! For sale at Madame Store, contact 86 994310162.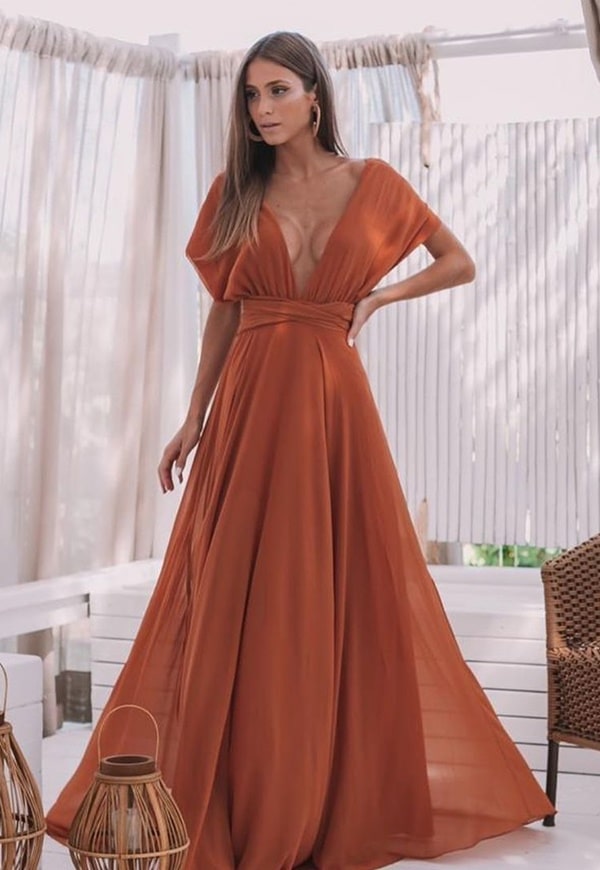 31-Mariah Boutique one-shoulder model (2020 trend).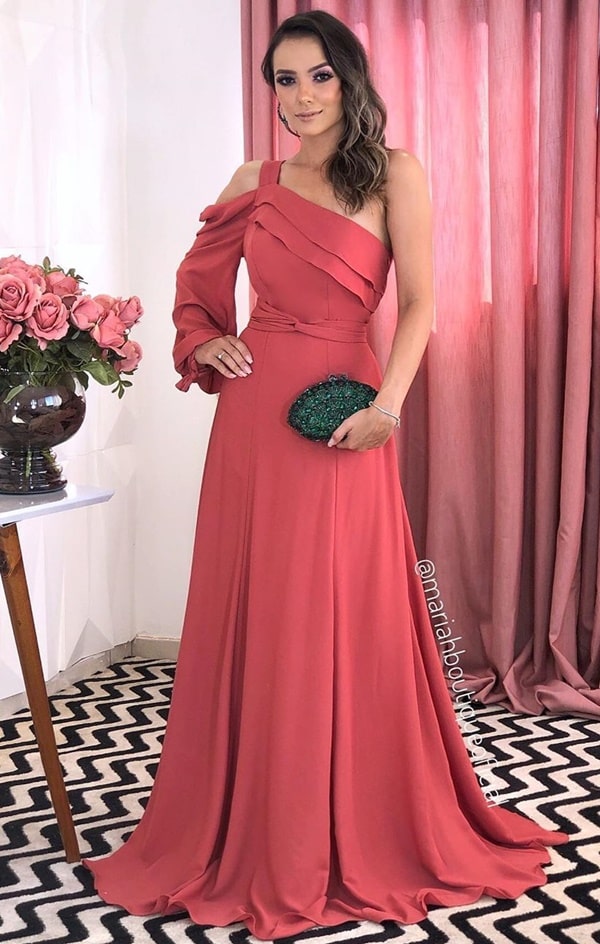 32-Tight model from Marbô, contact 44-99991-0048.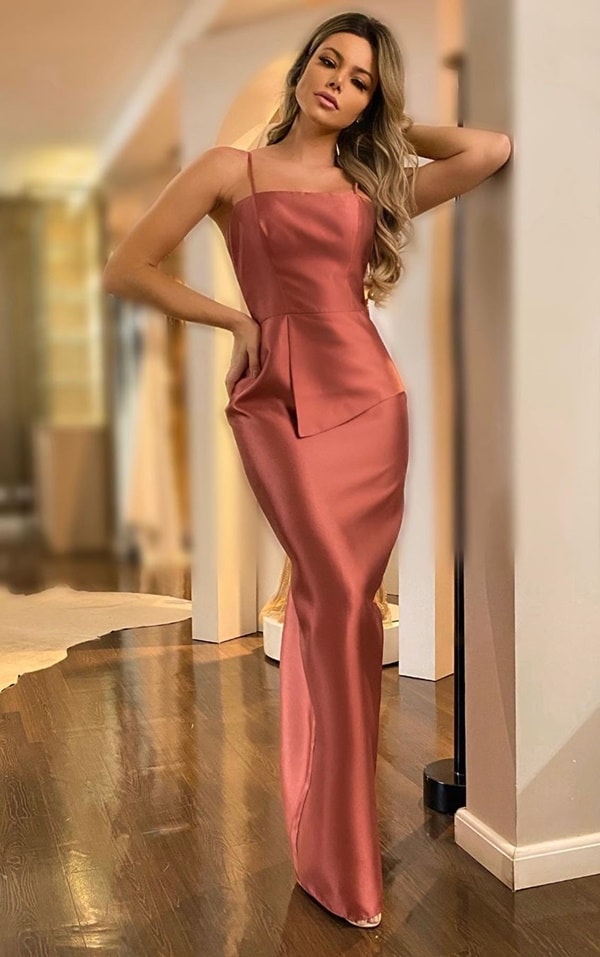 33- Instagram filter is very deceiving but the color of this dress worn by Bru Cardoso at the wedding of Thássia Naves seems to be from the earthy palette. The wonderful dress is by Vanessa Abbud Atelier.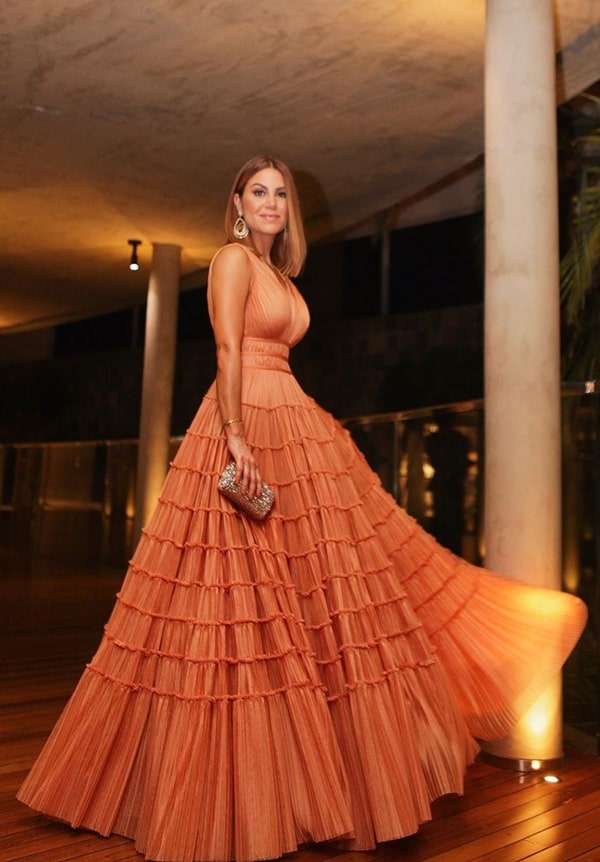 34-This photo shows how cool it looks when the earthy tones palette for bridesmaids includes several shades. All the dresses in the photo are from Party Brand, contact (11) 94508-626.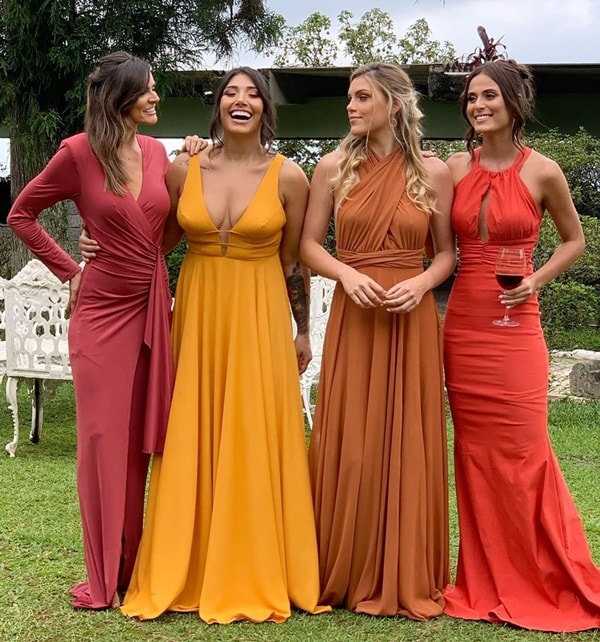 35- For those who like a light shine in the dress: Padrina's lurex dress (contact no 11 950606607).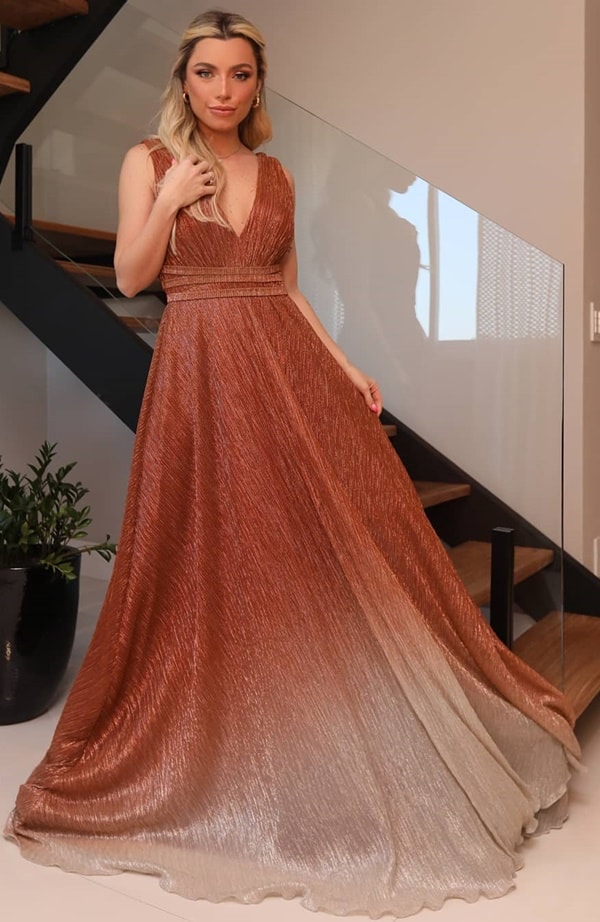 36-Dress in polka-dot tulle, this season's super trend. Candy Brown dress.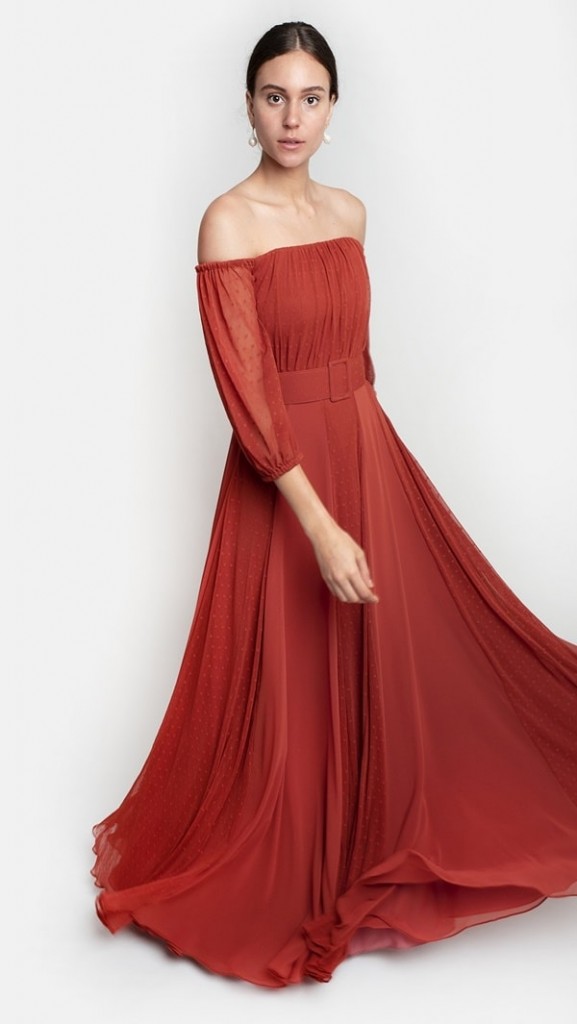 37- Party Brand trio of terracotta dresses, contact (11) 94508-626 ..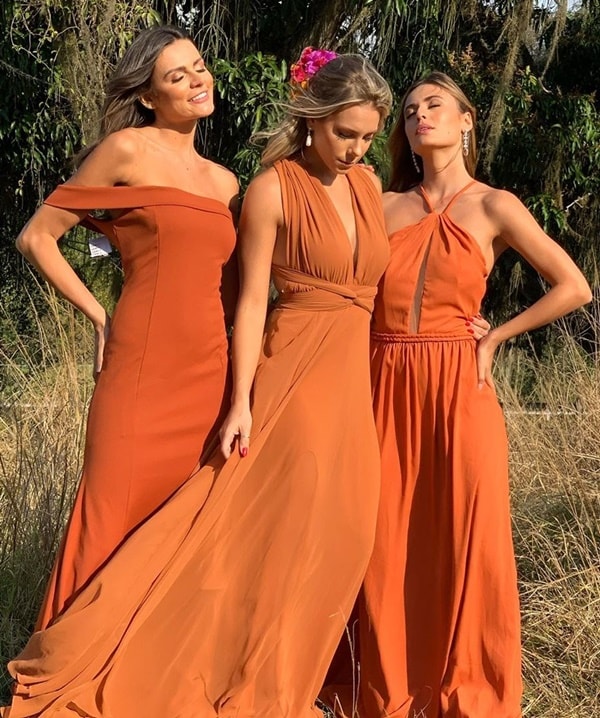 38- For bridesmaids who don't give up beautiful embroidery. Marbô dress contact no 44-99991-0048.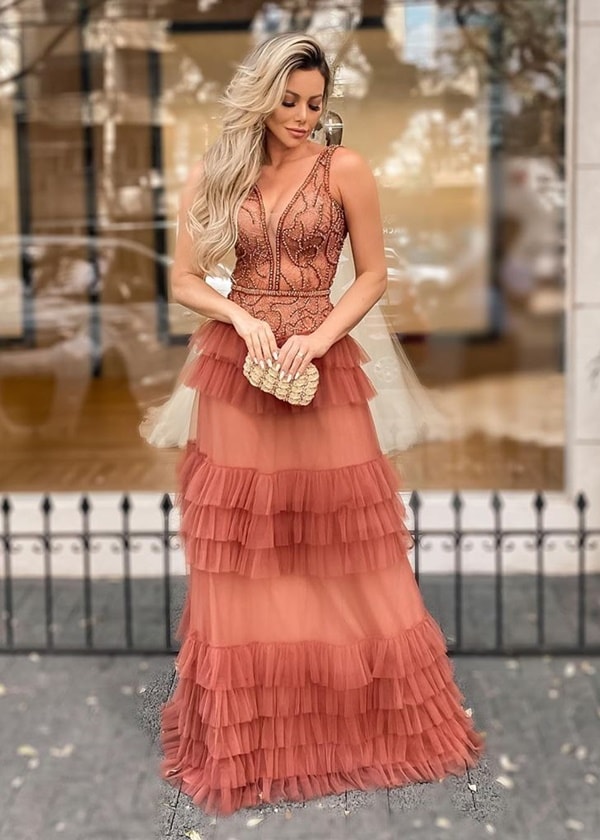 39- Model with puffed sleeves and slit. For sale at Atelie Patricia Roque, contact no 17 981922760.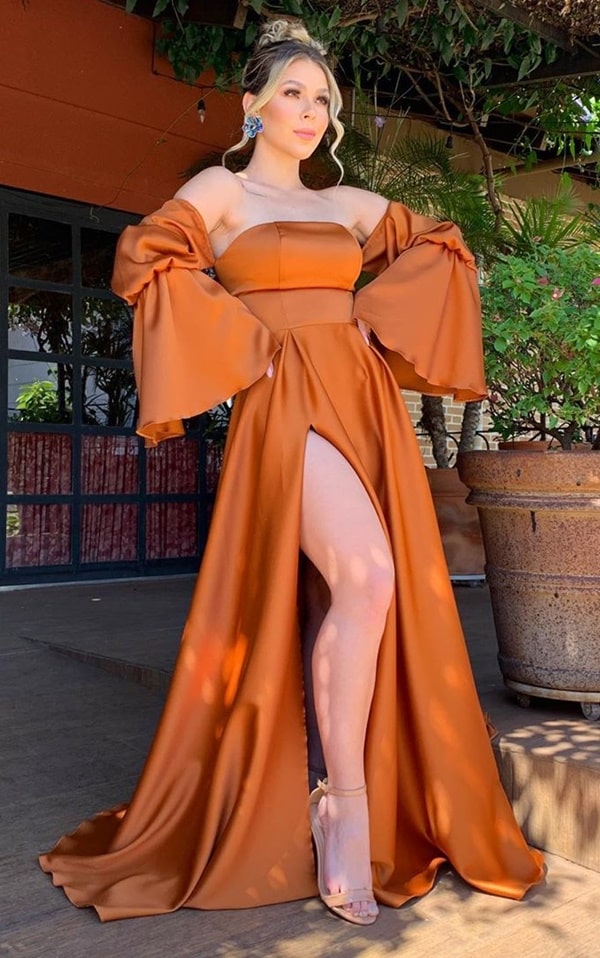 40- Long terracotta mermaid dress without embroidery. For sale at Cristina Acedo store, contact (11) 9 9690 8488.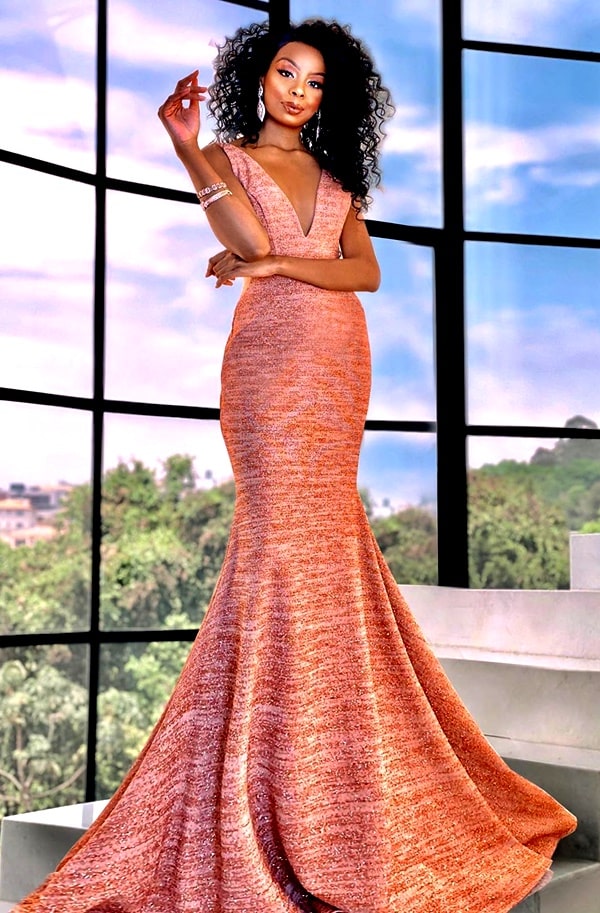 41- Model with marked waist and flowing skirt. For sale at Closet da May, contact (62) 99907-8090.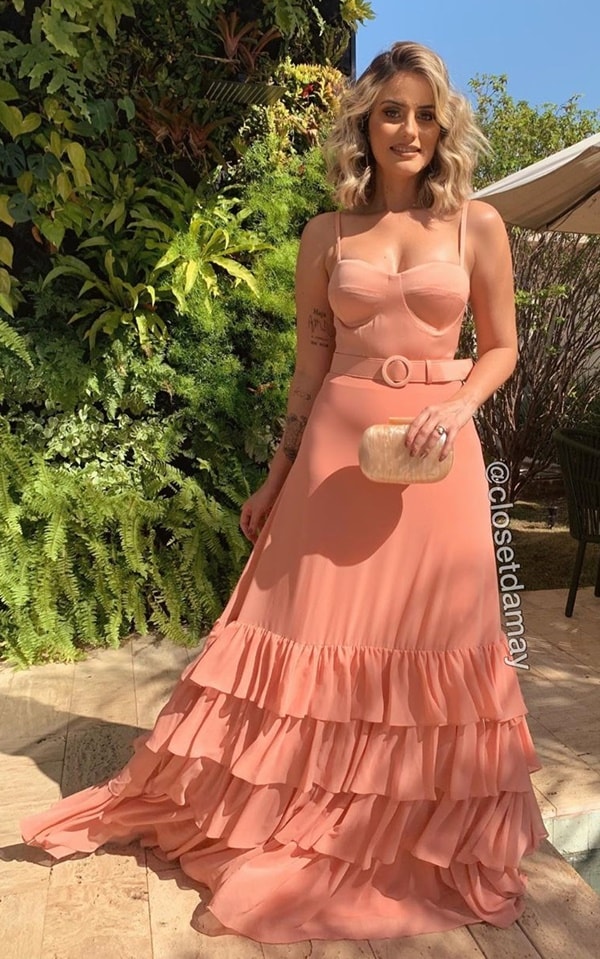 42- Beautiful New York Dress in polka dot tulle, contact whats whats app 3136684005.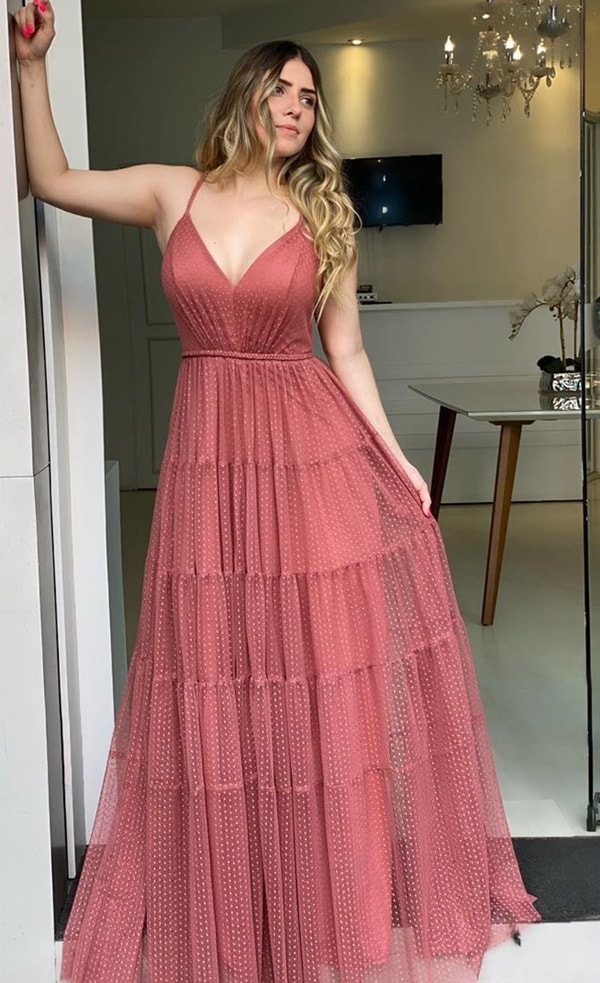 43- Beautiful terracotta long dress with a marked waist and crossed straps. On sale at Mariah Boutique.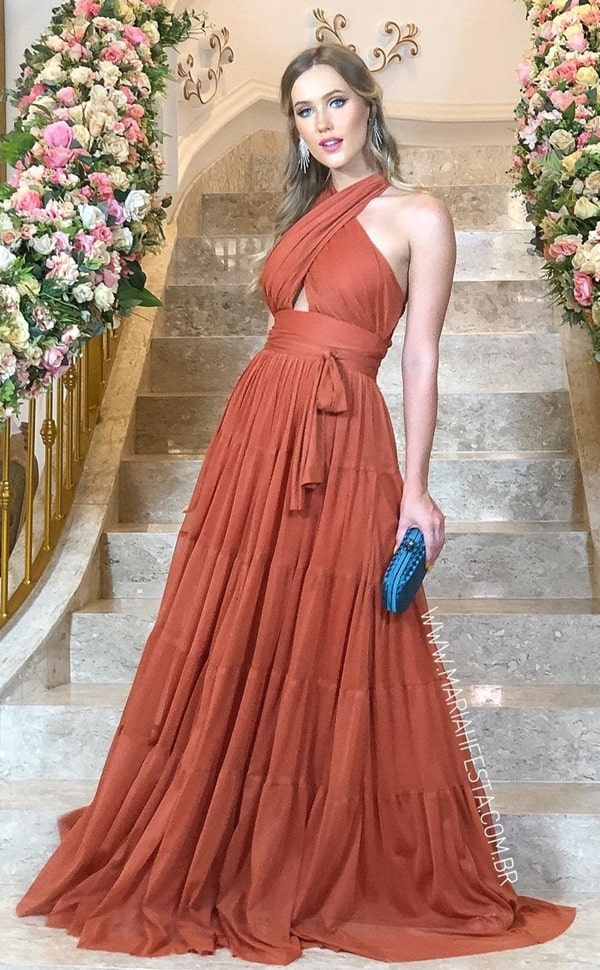 44- Also from Mariah Boutique, fluid terracotta dress.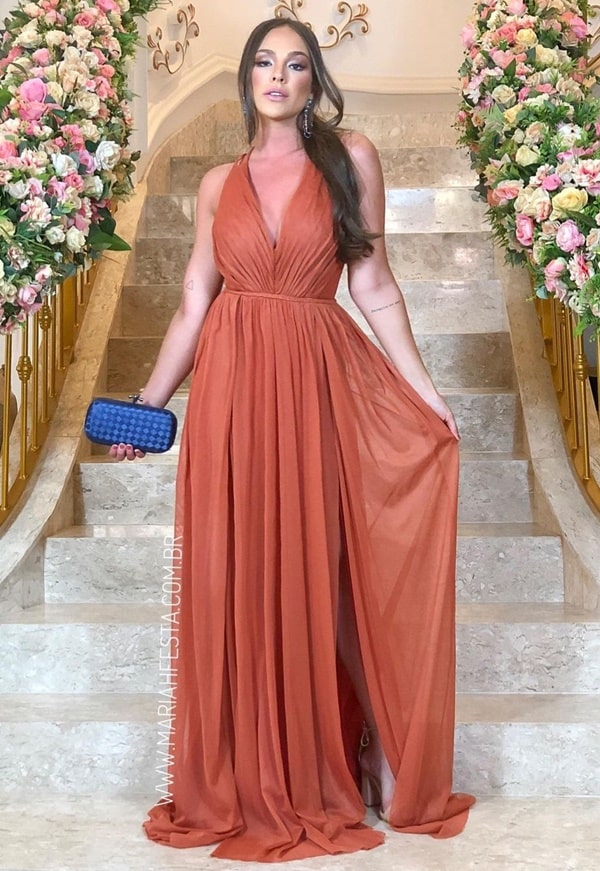 28- Terracotta plus size dress with slit. Fesperamor dress (for sale in multi-brand stores all over the country).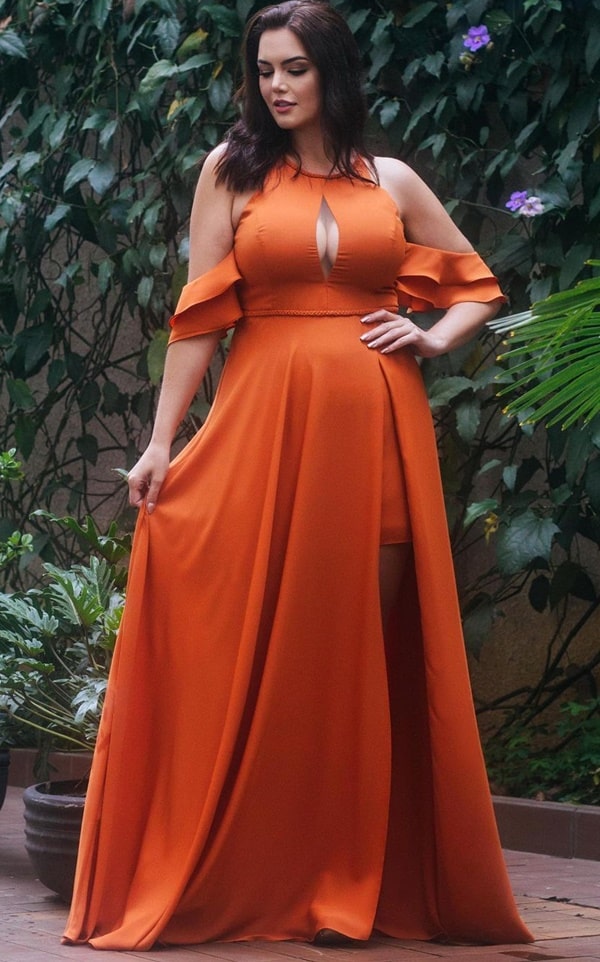 Did you like it? In this post I show more options of terracotta dresses for bridesmaids.
Here is an idea of ​​a palette of earthy tones. You can exclude tones according to the bride's preference, leaving only warmer or colder tones.