Looking for a look that makes you feel special? 👰
We help you find it in our catalog
Find out and request a quote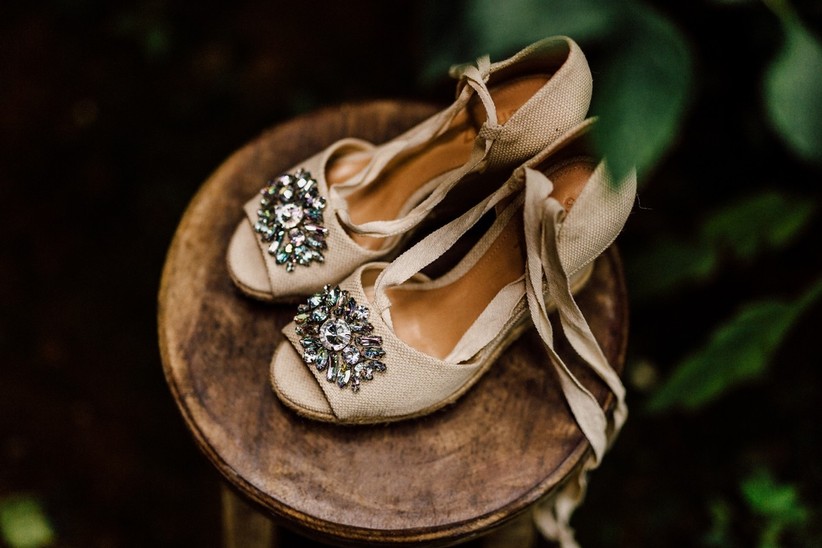 Known as alpargata, this shoe widely used in the Northeast and in coastal regions of the country also has other names, such as alpergata, espadrilla or alpercata. These are shoes or types of sandals made of canvas or denim, and usually their sole is made of rope or rubber. But the charm of alpargates often lies in the straps that accompany them, to attach to the ankles, which can be lace, ribbons or the same material, rope. And as nowadays in bridal fashion the trend is to "escape the traditional trends", many women have opted for this type of shoes for their wedding shoes.
For couples who want to innovate in all aspects, looking for unexpected options in the wedding decoration that will decorate the space, and in every detail of your party, thinking in different and original looks is also a great bet! For women who are looking for the perfect shoes and who run away from the traditional white of heel, an authentic alpargata can be the answer. And, like everything that surrounds this party, you need to know how to combine this type of footwear with the environment and with you.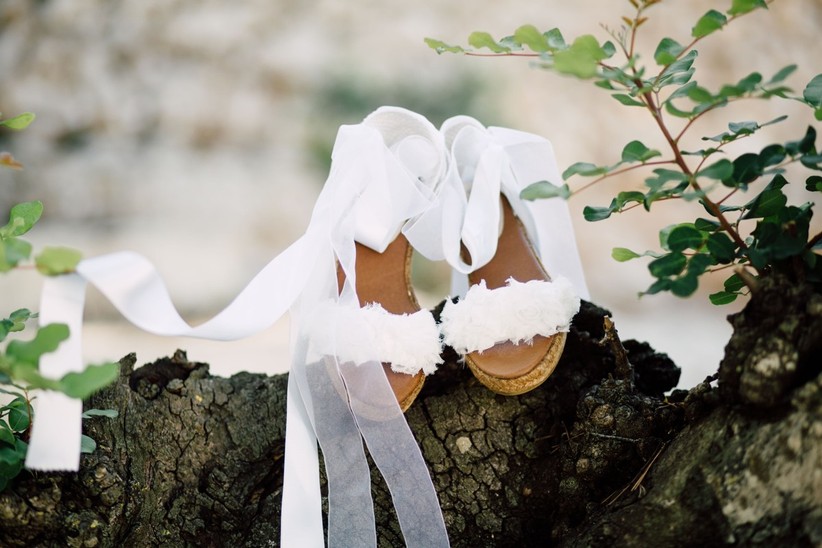 Comfort above all
Because they have a more rustic and handmade aesthetic, some models may not bring the same comfort as the "dancers" in more padded or anatomical formats, but still, the Alpargatas are comfortable, especially those with anabela heels.
You already know that C-Day will last a few hours and you'll probably want to dance to the last song for your wedding party on the dance floor with your guests, so before you buy your model, try it out, walk around and see if the sole is comfortable enough, if she's firm on her feet and the tapes that tie her are sturdy and do not tighten your heel.
With or without jump
Within the universe of bridal groceries it is possible to find some options for the most varied tastes. If you don't give up the jump to climb the altar, bet on models with anabela jump or platform…which in addition to comfort give you more security to walk.
But if you make a point of being extra comfortable, and in the sand in her day to day life she's not used to jumping, the best option is the espadrilles, no jumpingAs a kind of shoe for brides, which is one of the most charming low shoes, and ideal for beach or country links in the open air.
Without losing the glamour
Even if they are shoes that bring this relaxed air, it is possible to find Alpargates with more glamorous details such as rhinestones, pearls or satin-weaving fabrics. This type of footwear will make your set even more interesting, by mixing a rustic style with touches chic.
With the right dress
The secret to a flawless look is to know how to combine all the elements, from the wedding hairstyle to the shoe you're going to wear, i.e. literally from foot to head. Alpargatas, even if they are charming, must be "studied" before, because for some links may not be the ideal footwear because they don't go with all kinds of dressesfor example.
In the same way that she combines more with less conventional parties, the same goes for the nuptial look, with simpler and more elegant dresses, low volume skirts and fluffy fabrics they make the perfect match with the Alpargatas. The lace also matches perfectly with the style these shoes bring.
The most recommendable is that they be used by brides who have chosen sth. stripped down to escape traditional protocols at your event, even if your party has an elegant atmosphere. Outdoor parties, with rustic wedding decoration or boho style, with natural flooring and the surrounding nature are the best combinations for the espadrilles. And even if your party space isn't outdoors, this light and natural atmosphere can be felt with the right wedding flower arrangements at relaxed events, so don't hesitate to put on your feet this charming shoe has been check for these items.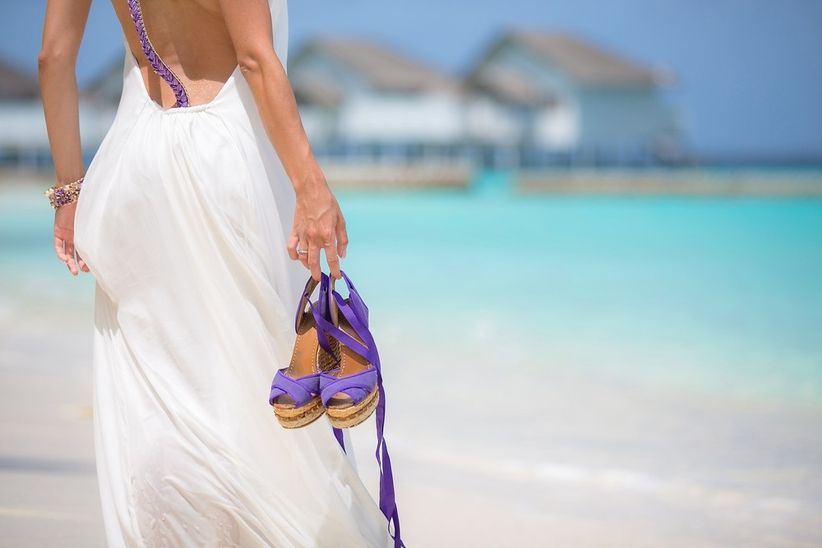 Have you identified yourself with all the features that can be part of an Alpargatas look? Surely now you will be more confident that she will be the special touch you were looking for to harmonize your ensemble, from your wedding dress, through all the accessories, to your bouquet of flowers. So make sure you make the decision: you've found your ideal shoe for your bridal look.
Looking for a look that makes you feel special? 👰
We help you find it in our catalog
Find out and request a quote
10 comments on "Alpargatas for the bride: tips for shining with comfort and style