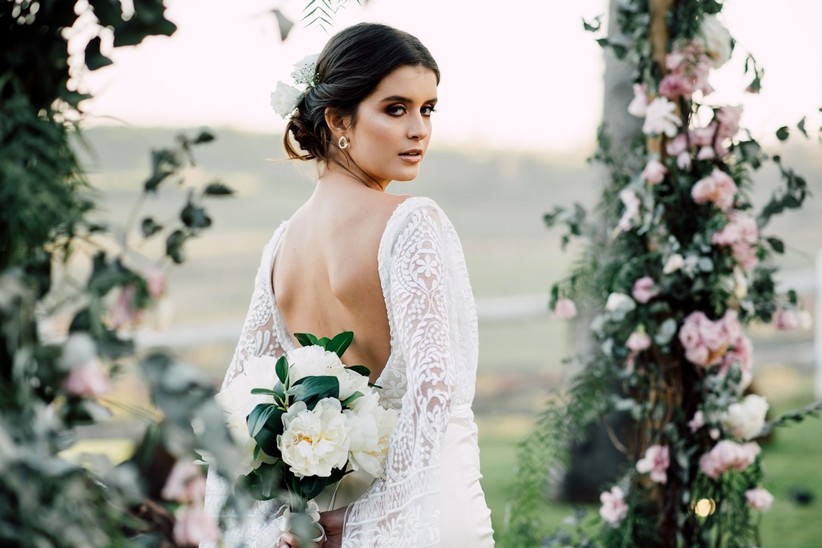 On one side, the bouquet of flowers and on the other, your date. Each one will be there to tell a love story with you. The chosen flowers are full of meaning, such as passion, purity, peace, prosperity, beauty, confidence, fortune and good vibrations. With this, the bride carries much more than a floral accessory. The branch also needs to be thought of as a continuation of the vThis is a bride's act, following the identity of the chosen look model and the personality of the party hostess.
In constant evolution and various formats, we have gathered all kinds of bouquets for you to discover the peculiarities of each onefrom traditional to daring, and which will go best with the dress and yourself.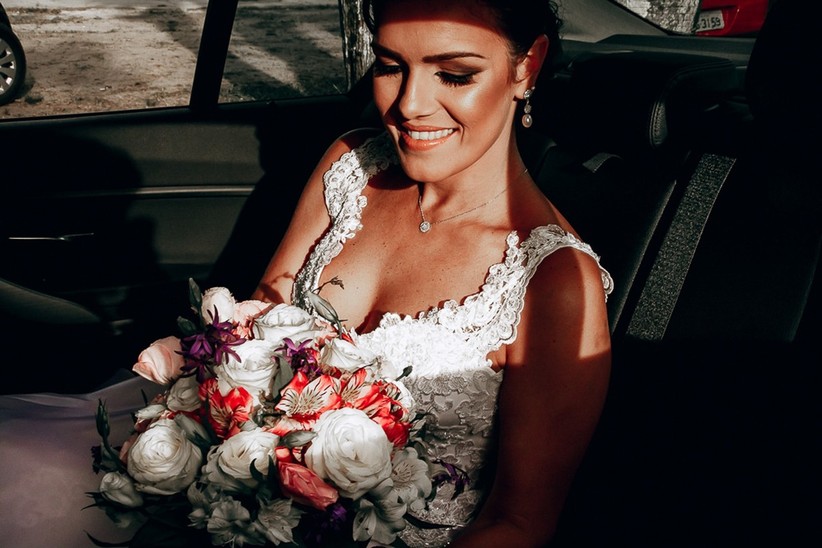 Traditional
Let's start with what is timeless, a beautiful traditional bouquet model, with a medium stem and a branch that opens up, so it is also called a "cup", usually composed of a type of white flower, like myrtle or rose, for example. Simple and graceful, matching dresses that have embroidery and laceand many women opt for a white bridal bouquet, only combined with green leaves.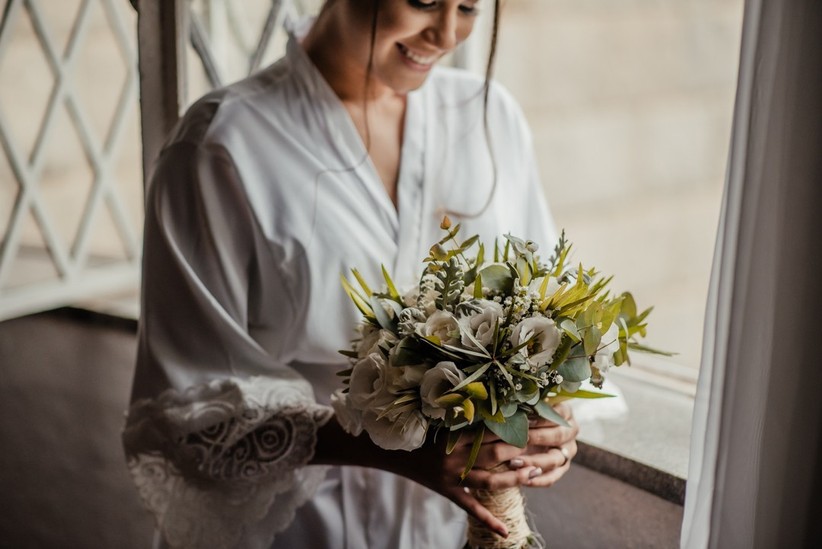 Round
The bride's favorite. The one that's round, very symmetrical, usually with compact roses and some foliage and the mosquito flower to complement. It is chosen by romantic women and is suitable for all bridal gown models, especially princess-cut and A-cut ones for not creating more volume to the look.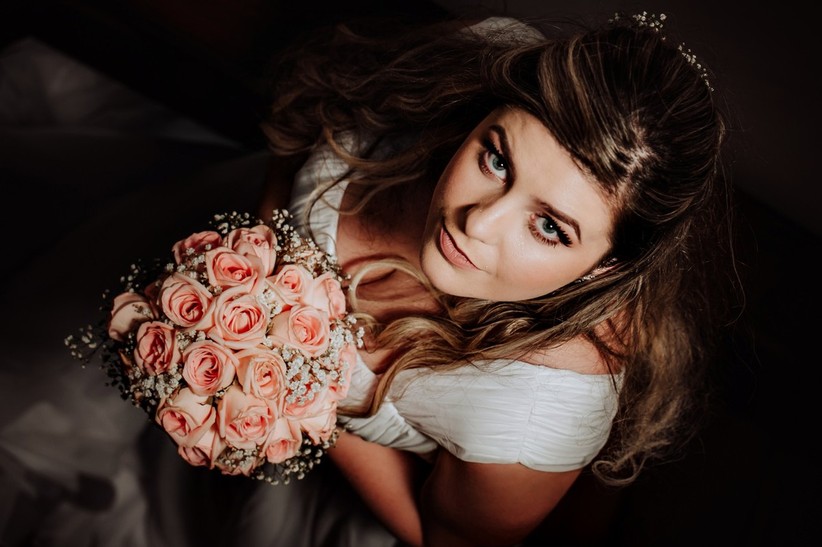 Waterfall
The flowers are placed in such a way that it looks as if they are falling, like a real waterfall on the dress, creating a long bouquet. It is a classic type and ideal for weddings with a sophisticated touch. It looks better with mermaid or straight-cut wedding dresses, but they're very worn with princess-cut dresses that don't have a very armed skirt.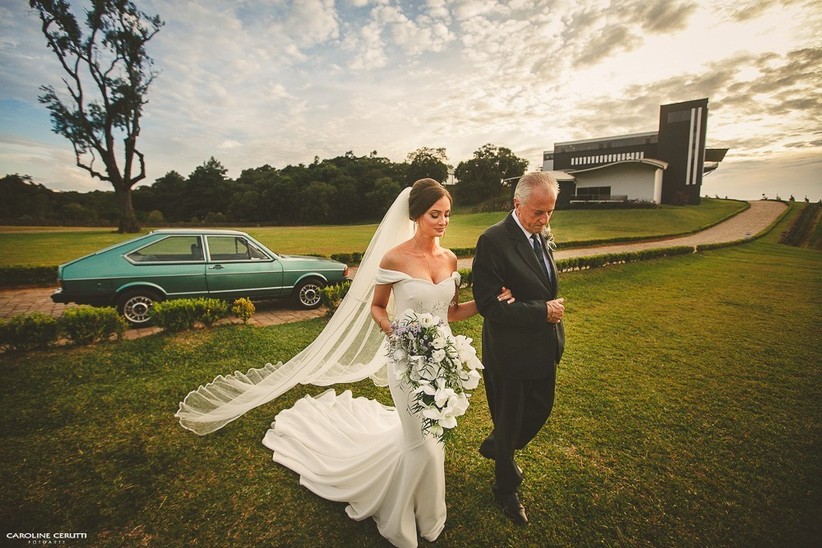 Growing
It's the cascade type, but differs because the flowers are firmed to give volume in the sides. It's good to try and be sure because, depending on your biotype, the bouquet may appear much more than you do. It is recommended a simple and straight wedding dress, adjusted to the body, not to carry the look.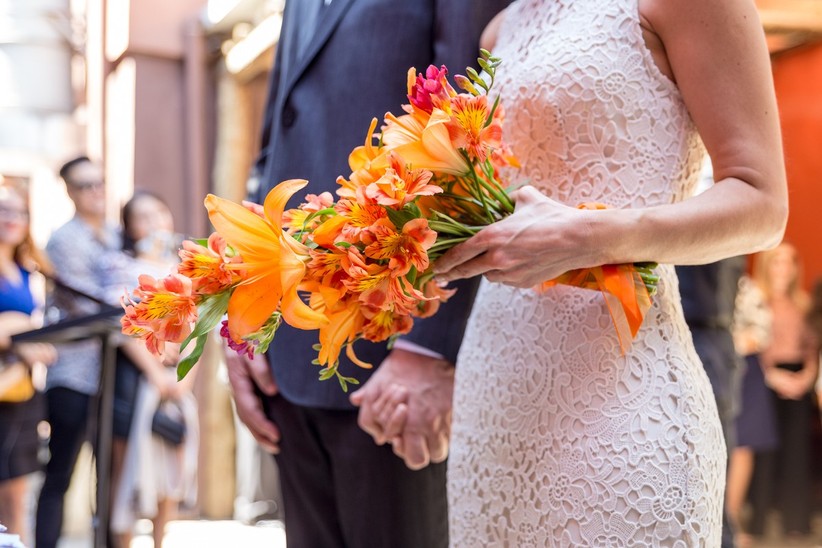 Braçada
This bouquet is made with long stem flowers because it must be carried on the forearm. É one of the most elegant and perfect types for empire or straight cut dresses, in modern modelingBut it can also be harmonized with evasive dresses or mermaid with an imposing tail, for a classic celebration anywhere.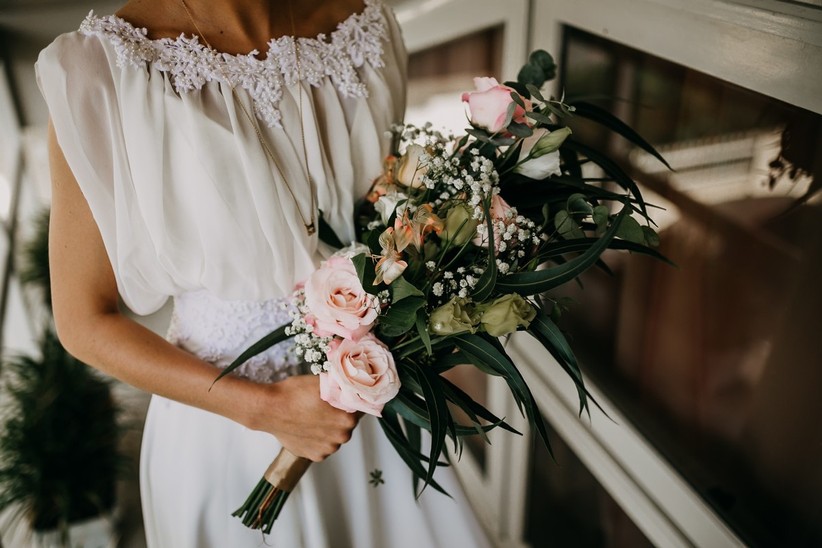 Asymmetric
The opposite of round and tidy, here is worth the deconstruction of the arrangement through a mixture of flowers, leaves, colors and texturesas if the bride herself had harvested on time. The versatility conquers from the romantic and traditional to the modern and daring. The leaves are placed in an organic way without losing the harmony of the whole.
And there's a bonus: matches all types of silhouette, but be careful when harmonizing it with a high volume dress on the skirt, because it can pollute the whole look. For dresses with many layers and textures, it can be a risky choice.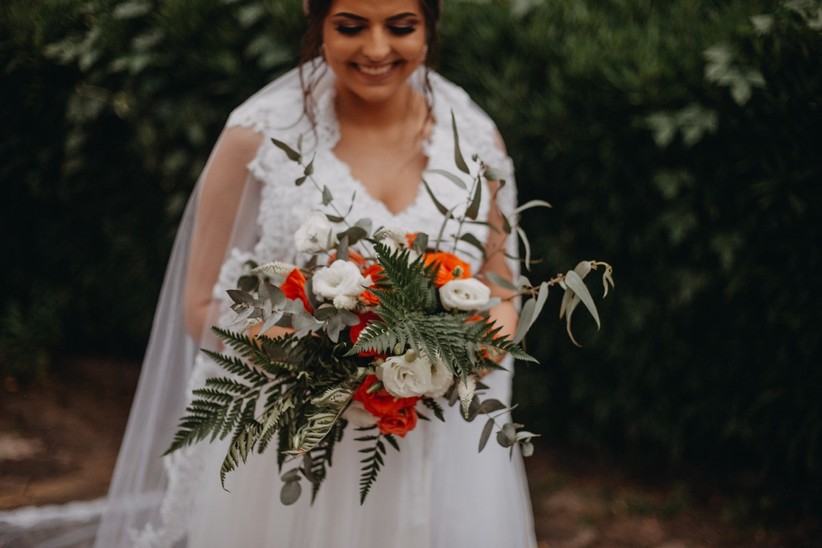 Single flower
As the name already says, one flower is enough. The anthurium and the milk cup are good for that role. If you want to increase and innovate, try Adam's rib with an orchid. The idea is minimalism and the dress follows the same proposal of the less is more.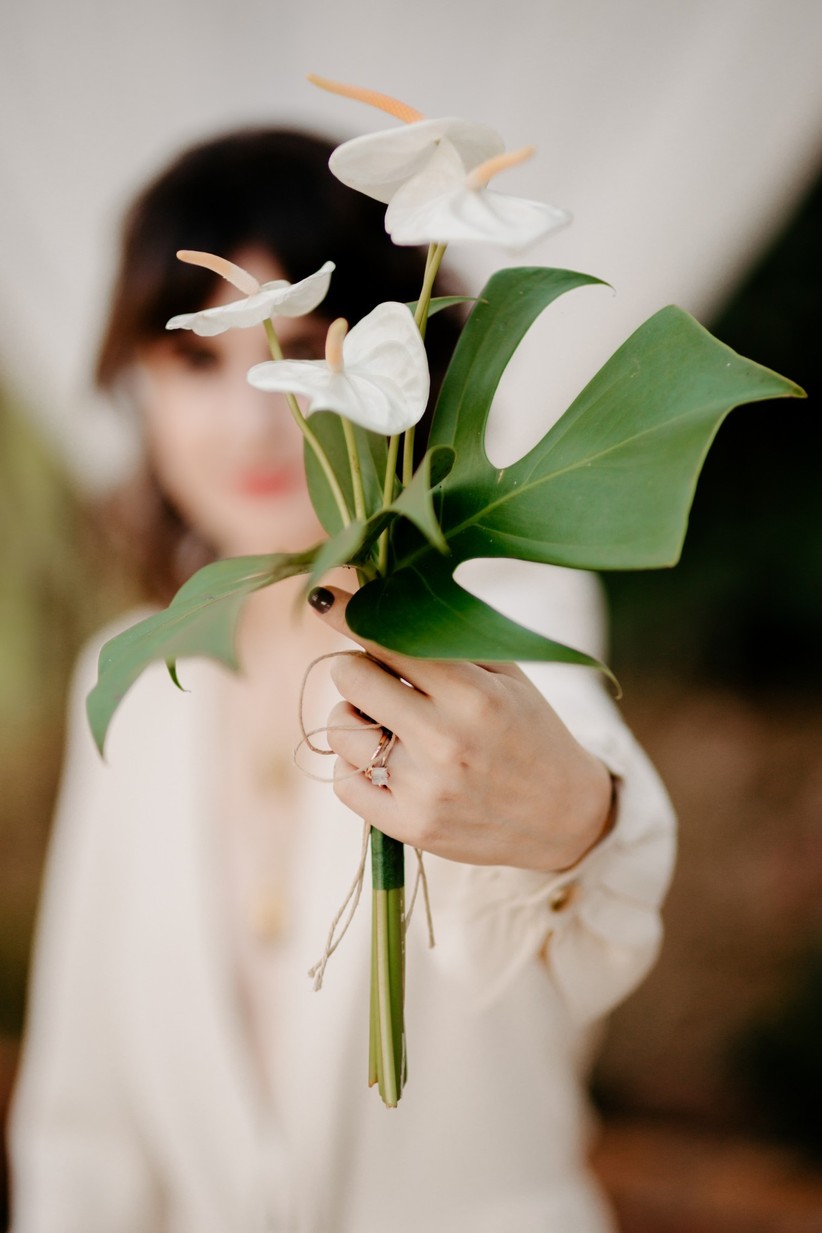 Vintage
With the inspiration of what was used a few decades ago, the vintage bouquet can be so much a bouquet that prioritizes pastel colors, with a delicate touch, or can bring back the use of fabric flowers, brooches and pearls. It is possible to use lace or something that belonged to a loved one to make a tribute, like medals. It's the kind of bouquet for the bride who likes the style, so her dress follows the aesthetics with a straight cut, in A or evasê, with airs boho chic.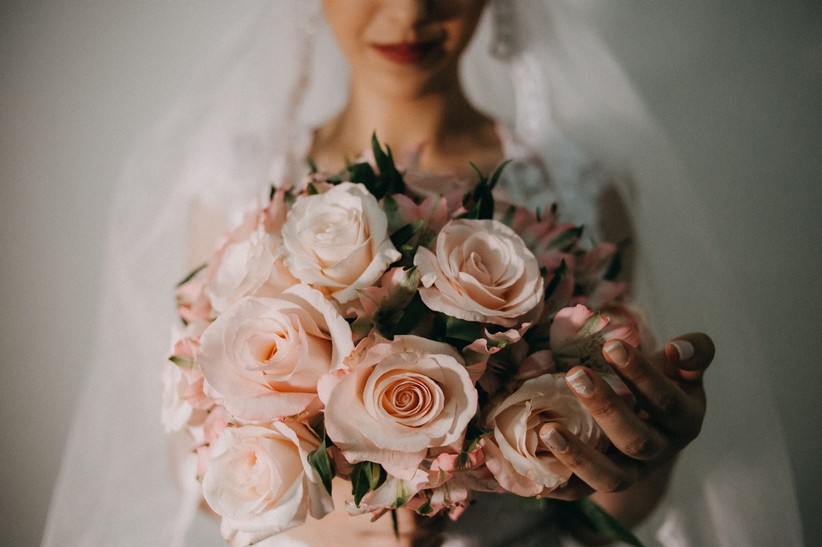 Hoop
This bouquet of country flowers has gained more followers and has fallen into the taste of those who will marry in the daytime, because it combines with a more countryside environment. It's nothing more than a rim of fine wood or branches, with flowers and leaves, like a garland. It is practical and needs to be light. Combines with flying dresses, with fluid fabricsbut he also looks charming in a mermaid dress, fairer.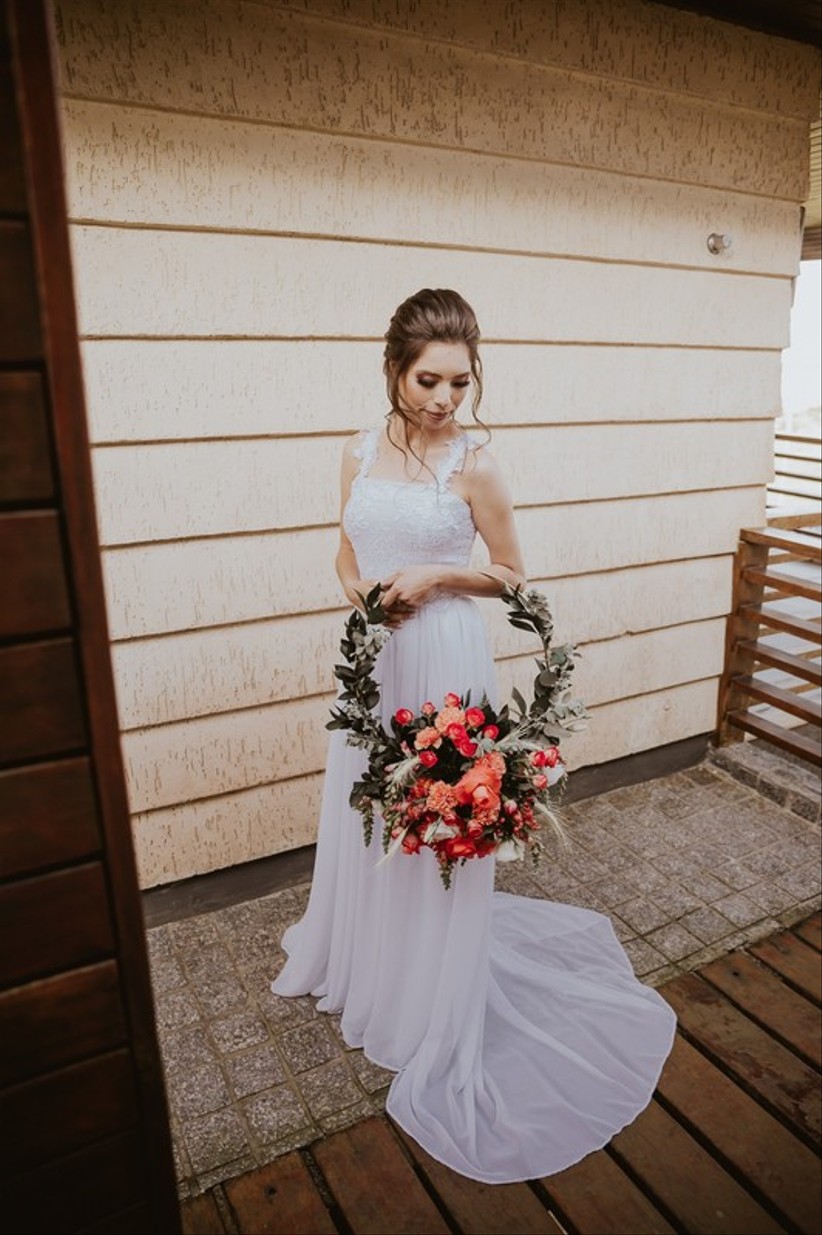 Deconstructed
Bouquets that run from the common, but are equally beautiful. Bolder than asymmetric bouquets, they play with all kinds of flowers, foliage and other materials together for the composition. There are those formed by only succulents, others with artificial flowers and feathers of birds, like the peacock. And the bouquets made with flowers of colored, white paper, of book leaves. They go well with all kinds of dresses, but you have to match the bride first.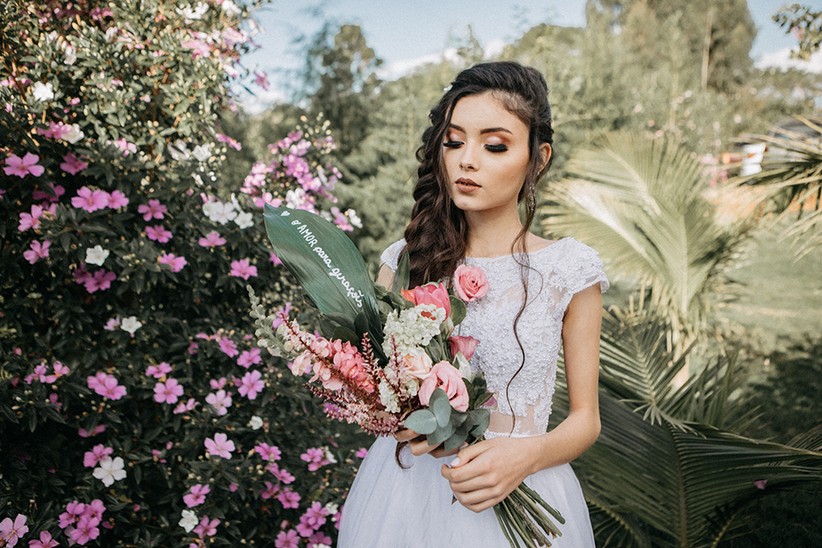 Have you decided what your style of bouquet and dress will be? Remember that the guy in the bouquet must still be in tune with the wedding décor as well as the time of the ceremony. As a rule, the morning and afternoon will match smaller, more delicate and lighter bouquets. At night it asks for sophisticated and exuberant bouquets. Everything depends on your taste and preferences of flowers and colors to make your bouquet unique and reflect the joy of the great day.
57 comments on "Wedding dresses and bouquets: how to harmonize these two iconic elements"